In today's globalised world, sustainability has become a critical concern for businesses across various industries. Companies increasingly recognize the need to minimise environmental impact and optimise resource utilisation. One significant area where sustainability efforts can be focused is the supply chain, particularly inventory management. This article highlights the importance of optimising inventory levels for sustainable supply chain practices and explores how Demand Driven Material Requirements Planning (DDMRP) principles can help achieve this goal.
The Environmental Impact of Excess Inventory
Excess inventory is a common issue in traditional supply chain management practices. Maintaining high inventory levels can lead to several negative economic and environmental consequences. Overstocked inventory ties up valuable financial resources and incurs carrying costs like storage, insurance, and obsolescence expenses. Moreover, excessive inventory can lead to increased waste as products become obsolete or perishable before they are sold, contributing to landfill waste and greenhouse gas emissions from transportation and production activities. 
Landfill Waste and Resource Depletion
When products remain in inventory for extended periods, there is an increased risk of becoming obsolete or reaching the end of their shelf life. As a result, these unsold items are often disposed of as waste, adding to the landfill burden. The disposal of unsold inventory not only consumes valuable landfill space but also represents a significant waste of the resources invested in manufacturing and transporting these products.
Consider the manufacturing of consumer electronics as an example. Electronics often contain precious metals, rare earth elements, and other valuable materials. When excess inventory becomes obsolete and is discarded, these finite resources are lost, and the extraction of new raw materials is required to meet future production needs. This extraction process can lead to environmental degradation, habitat destruction, and further strain on natural resources.
Greenhouse Gas Emissions
The environmental impact of excess inventory is not limited to waste generation alone; it also contributes to greenhouse gas emissions. The production and transportation of goods require energy, most of which comes from fossil fuels. When products are overproduced and remain in inventory for extended periods, the associated emissions from manufacturing and transportation become unnecessary and avoidable.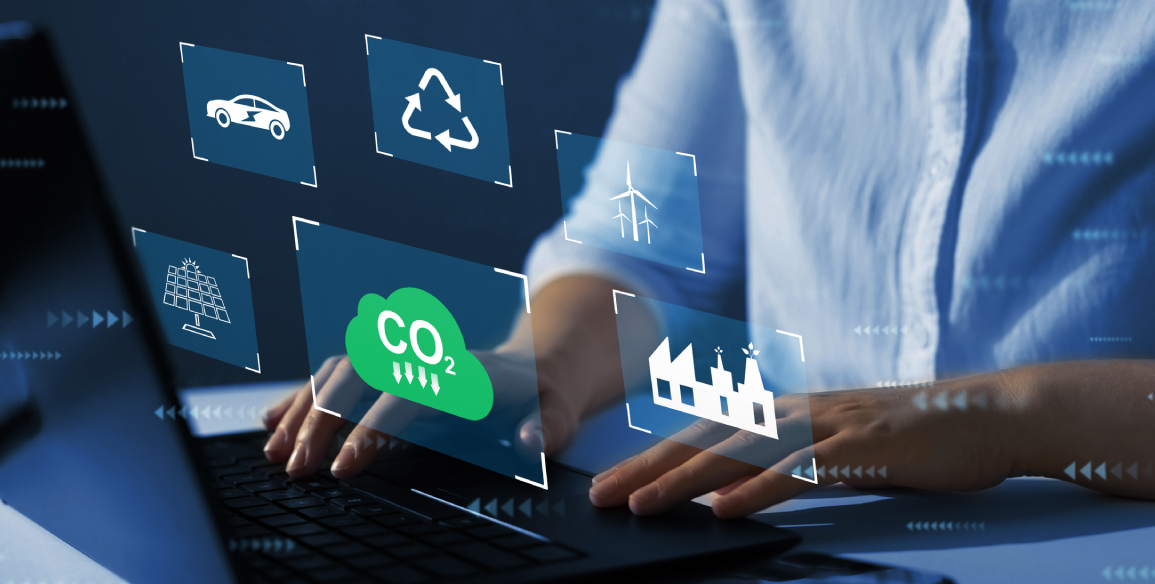 Moreover, managing excess inventory demands additional storage space and energy for climate control. This includes heating, cooling, and lighting storage facilities, all of which contribute to carbon emissions. The longer products remain in inventory, the more significant their carbon footprint becomes.
Consider a smartphone manufacturer that forecasts high demand for a new model release. In anticipation of this demand, the company ramps up production and stocks a large quantity of smartphones in its warehouses. However, due to unforeseen factors, such as changes in consumer preferences or the availability of a competitor's product, the actual demand for the new model is lower than expected.
As a result, a substantial portion of the smartphones remains unsold and stays in inventory for an extended period. The excess inventory demands additional storage space in climate-controlled warehouses to preserve the devices' quality. This continued storage and climate control consume energy, much of which is derived from fossil fuels, resulting in greenhouse gas emissions.
Water and Energy Consumption
The production and transportation of goods consume significant amounts of water and energy throughout the supply chain. When products are overproduced and sit in inventory, the consumption of these vital resources becomes wasteful. Water is used in various stages of manufacturing, and energy is required for production processes, transportation, and climate control in storage facilities. By optimising inventory levels, businesses can reduce unnecessary water and energy consumption, thereby contributing to resource conservation and environmental sustainability.
Supply Chain Disruptions and Environmental Impact
Excessive inventory can exacerbate supply chain disruptions, which, in turn, have environmental implications. For example, if a company has accumulated excess inventory due to forecasting errors or market changes, sudden shifts in demand can lead to inventory obsolescence or spoilage. In response, businesses may resort to discounting or liquidating the excess inventory, further perpetuating the environmental impact by encouraging unsustainable consumption practices.
Additionally, excess inventory can strain transportation networks. More trucks, ships, or planes may be required to transport the surplus products, resulting in higher fuel consumption and increased greenhouse gas emissions.
The DDMRP Approach
Demand Driven Material Requirements Planning (DDMRP) is a revolutionary supply chain management methodology that addresses the limitations of traditional Material Requirements Planning (MRP) systems, offering a sustainable approach to inventory optimization. In stark contrast to forecast-driven planning, DDMRP centres on synchronising inventory levels with actual customer demand by strategically placing inventory buffers at key points along the supply chain. These buffers act as shock absorbers, safeguarding against demand variability and ensuring each stage operates based on real consumption data rather than unreliable forecasts. Let's explore the Demand Driven approaches and their significance in optimising inventory for sustainability: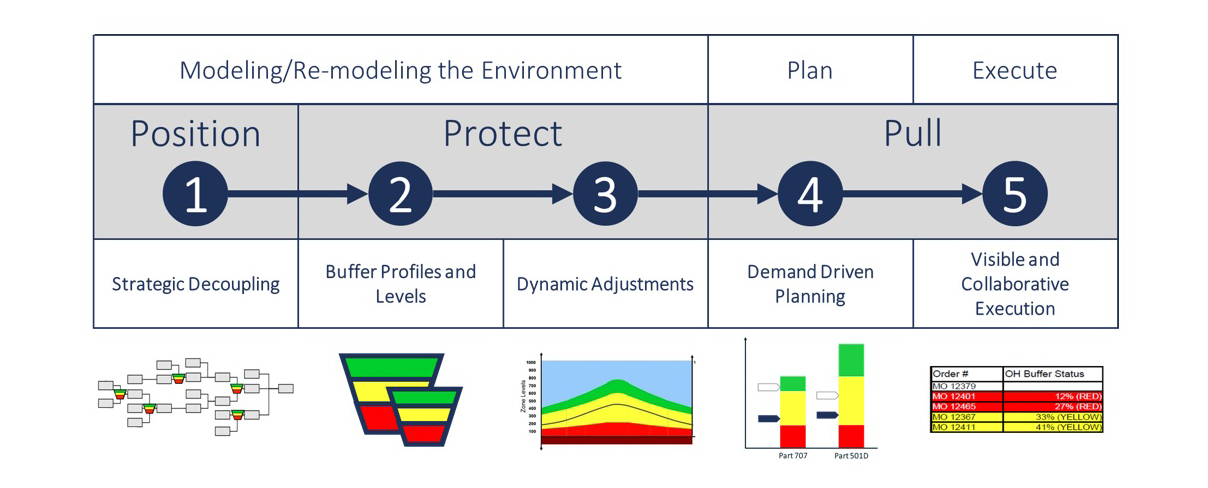 Demand Driven Planning:
Traditional supply chain management relies heavily on forecasting to predict customer demand. However, forecasts are often prone to inaccuracies, leading to overproduction and excess inventory. DDMRP adopts a demand driven planning approach, prioritising actual customer demand as the primary driver for inventory planning.
Example: Consider a clothing retailer that relies on forecasts to determine how many units of a particular garment to produce. If the forecast overestimates the demand for a specific style, the company might have excess inventory that becomes outdated and unsellable. In contrast, with demand driven planning, the retailer continuously monitors customer buying patterns and adjusts production levels accordingly, reducing the risk of excess inventory.
Demand driven planning allows businesses to be more responsive to changes in customer preferences and market dynamics. By continuously sensing and monitoring real-time demand signals, companies can adapt their inventory levels and production schedules to match actual customer needs.
Buffer Management:
DDMRP introduces the concept of buffer management to optimise inventory levels strategically. Buffers represent a quantity of  stock placed at various points in the supply chain to decouple different stages. These buffers help to absorb demand and supply variability and prevent disruptions from rippling through the entire supply chain.
Example: In a manufacturing company, buffer management is applied by placing inventory buffers at critical points in the production process, such as between different workstations or production and distribution centres. By maintaining buffers, the company can avoid production bottlenecks and ensure a smoother flow of goods through the supply chain, reducing the need for excessive safety stock.
Businesses can use data-driven insights to determine the appropriate buffer sizes based on factors like demand variability, supplier lead times, and desired service levels. This ensures optimal inventory levels without carrying excessive safety stock, reducing waste associated with overstocking.
Dynamic Buffer Adjustment:
DDMRP's dynamic buffer adjustment allows companies to continuously reevaluate and adapt buffer sizes based on actual consumption and lead time fluctuations. This dynamic approach enables companies to respond effectively to changes in demand patterns and market conditions.
Example: Imagine a seasonal product like ice cream, which experiences higher demand during the summer months. With dynamic buffer adjustment, a company can increase buffer sizes for ice cream inventory during peak summer months to meet the heightened demand. As the summer season ends, the buffer sizes can be reduced to avoid excess inventory.
By aligning buffer sizes with current demand variability, companies reduce the likelihood of obsolete or perishable goods, thereby minimising waste generated from disposing of unsold products.
Prioritised Production and Replenishment:
DDMRP emphasises prioritising production and replenishment based on buffer status and customer demand rather than relying on fixed forecasts. This ensures that resources are used efficiently and that production schedules are aligned with actual demand.
Example: A food manufacturer using DDMRP may prioritise the production of perishable goods based on buffer levels and actual sales data. This approach helps prevent unnecessary production runs and reduces the risk of products expiring before they are sold.
By basing production decisions on actual demand signals, companies can minimise overproduction and the environmental impact of excessive resource consumption.
Collaboration and Visibility:
The success of DDMRP implementation is contingent on collaboration and visibility within the supply chain network. Effective communication and data sharing between stakeholders enable better decision-making and coordination. By sharing real-time information on inventory levels, demand, and supply chain performance, companies can collaboratively respond to changes in demand patterns and supply chain disruptions.
Example: A company using DDMRP collaborates closely with its suppliers to share real-time information on inventory levels, demand forecasts, and production capacities. This transparency allows suppliers to adjust their production schedules and delivery timelines to match the actual demand of the company. As a result, excess inventory and waste resulting from inaccurate forecasts are significantly reduced.
The collaborative approach fosters reduced lead times, streamlined processes, and minimised waste throughout the supply chain, contributing to a more sustainable and efficient operation.
Conclusion
DDMRP offers a comprehensive approach to optimising inventory for sustainability, addressing the environmental challenges of excess inventory in traditional supply chain management. By embracing demand driven planning, buffer management, dynamic buffer adjustment, prioritised production, and collaboration, companies can improve their environmental footprint, enhance operational efficiency, and achieve a competitive advantage.
As businesses worldwide prioritise sustainability and environmental responsibility, integrating DDMRP principles into inventory management practices will be pivotal in creating a more sustainable and resource-efficient supply chain ecosystem. Through DDMRP, companies can reduce their environmental impact and achieve long-term profitability in an increasingly conscious and responsible marketplace.
Optimise inventory for reduced waste and enhanced efficiency. Contact Patrick Rigoni today!