In an era defined by pressing environmental concerns, businesses across the globe are seeking innovative ways to create sustainable supply chains. Transportation, a vital component of the supply chain, plays an important role in determining a company's carbon footprint. DDMRP is a powerful approach to optimize transportation networks and minimize carbon emissions. This article delves into the role of DDMRP in driving sustainable logistics, with a specific focus on integrating renewable energy sources into transportation. By leveraging DDMRP principles like demand synchronization, real-time visibility, and responsive planning, companies can enhance their transportation routes, reduce fuel consumption, and embrace eco-friendly practices in their supply chains.
The Importance of Sustainable Logistics
Sustainable logistics integrates eco-friendly practices and environmentally responsible strategies within the supply chain and transportation processes. It emphasizes reducing carbon emissions, minimizing waste, conserving natural resources, and promoting social responsibility. The importance of sustainable logistics has become increasingly evident as the world faces escalating environmental challenges, such as resource depletion, climate change, and pollution. Businesses that embrace sustainable logistics contribute to global environmental conservation and reap tangible benefits, including cost savings, enhanced brand reputation, and improved customer loyalty.
Carbon Emissions and Transportation
Transportation is a major contributor to greenhouse gas emissions, particularly by burning fossil fuels in vehicles. The combustion of gasoline and diesel in trucks, ships, airplanes, and other transportation modes releases carbon dioxide (CO2) and methane (CH4) into the atmosphere, leading to the greenhouse effect and global warming. As public awareness of climate change grows, consumers, investors, and regulatory authorities demand a shift towards sustainable practices, placing businesses under increasing pressure to address their carbon footprint.
Embracing sustainable logistics is a fundamental step for businesses to reduce their environmental impact and combat climate change. Companies can significantly lower their carbon emissions by adopting greener transportation practices, such as using alternative fuels, optimising routes, and improving vehicle efficiency. Reducing the reliance on fossil fuels and integrating renewable energy sources, like electric vehicles or biofuels, can lead to substantial reductions in greenhouse gas emissions, contributing to a more sustainable future.
The Role of Transportation in Supply Chain Sustainability
The transportation phase of the supply chain presents numerous opportunities to incorporate sustainable practices. As products move from suppliers to manufacturers and distributors and finally to consumers, various transportation processes can be optimised to enhance supply chain sustainability.
Optimising Routes
Efficient route planning plays a critical role in reducing the environmental impact of transportation. By optimising delivery routes, companies can minimise the distance travelled, decrease fuel consumption, and reduce carbon emissions. Route optimization also leads to cost savings, creating a win-win situation for businesses and the environment.
Embracing Alternative Transportation Modes
Businesses can explore alternative transportation modes, such as rail or intermodal transport, which are generally more fuel-efficient than traditional trucking. Shifting a portion of the transportation load to greener modes can positively impact the overall carbon footprint of the supply chain.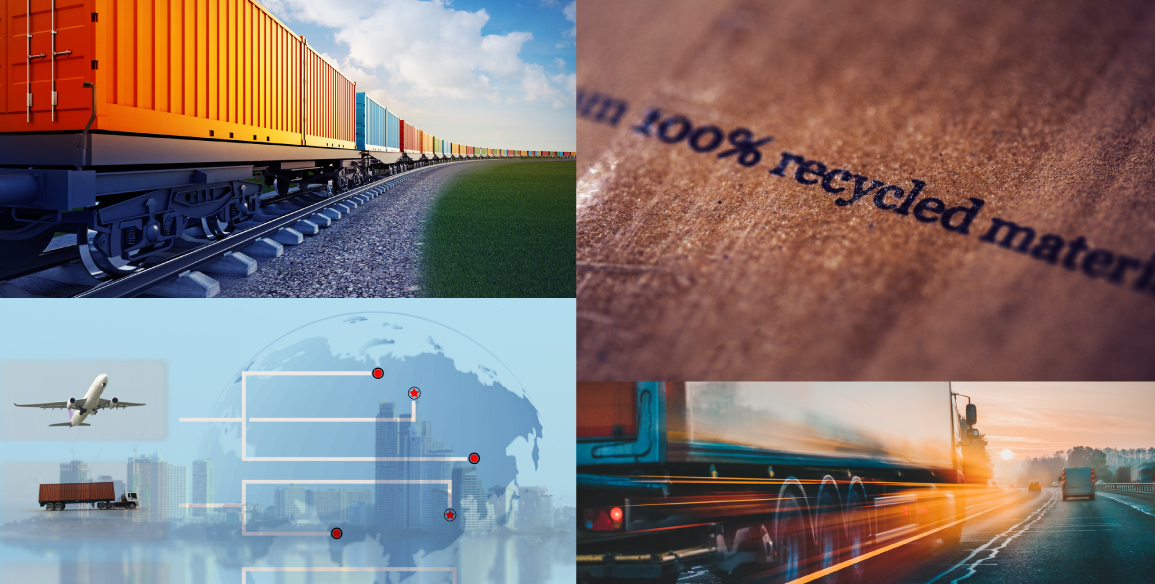 Reducing Empty Miles
Empty miles, where trucks travel without cargo, are a significant source of inefficiency in transportation. Companies can minimise empty miles, optimise capacity utilisation, and reduce fuel consumption and emissions by implementing better load planning and collaborative shipping practices.
Sustainable Packaging
Sustainable logistics also encompasses environmentally friendly packaging practices. Using recyclable materials, reducing excess packaging, and adopting reusable packaging options contribute to waste reduction and overall supply chain sustainability.
The Role of DDMRP in Sustainable Logistics
Demand Driven Material Requirements Planning (DDMRP) is crucial in driving sustainable logistics, particularly transportation. This innovative methodology goes beyond traditional supply chain practices by emphasising responsiveness and minimising disruptions. DDMRP focuses on synchronising supply with actual demand, a critical aspect in achieving sustainability goals. Businesses can significantly reduce their carbon footprint and promote eco-friendly practices in their supply chains by optimising transportation networks and integrating renewable energy sources, such as electric vehicles or renewable fuels.
Understanding Demand Driven Material Requirements Planning (DDMRP)
DDMRP is a cutting-edge methodology that addresses the limitations of traditional supply chain planning techniques. Developed as an extension of the Material Requirements Planning (MRP) and Distribution Requirements Planning (DRP) systems, DDMRP strongly emphasises dynamic demand signals rather than relying solely on static forecasts. This approach empowers companies to synchronise their supply chain operations more efficiently and effectively.
At its core, DDMRP seeks to achieve three key objectives:
Synchronizing Supply with Actual Demand:

DDMRP focuses on aligning inventory levels with real-time customer demand. Instead of relying on inaccurate long-term forecasts, the system uses dynamic demand signals to trigger replenishment and production activities. By synchronising supply with actual demand, companies can optimise inventory levels, reduce excess stock, and prevent shortages or overstock situations, all of which contribute to more sustainable logistics.

Reducing Excess Inventory:

One of the primary causes of waste and inefficiency in supply chains is excessive inventory. Traditional planning methods often lead to stockpiling to meet uncertain future demand. DDMRP addresses this issue by dynamically adjusting inventory levels based on actual consumption rates, thereby reducing carrying costs and minimising the environmental impact of excess inventory.

Increasing Agility and Responsiveness:

In a rapidly changing business landscape,Companies must be agile in responding to disruptions, changing customer preferences, and unexpected events. DDMRP enables organisations to sense changes in demand or supply and adapt their transportation plans accordingly. This flexibility enhances sustainability by reducing waste and improves customer service and operational efficiency.
Benefits of Implementing DDMRP in Transportation
Integrating DDMRP principles into transportation networks offers several significant benefits, positively impacting the overall sustainability of logistics operations.
Reducing Lead Times:

By synchronising transportation activities with real-time demand signals, DDMRP reduces

lead times

significantly. Shorter lead times allow companies to respond more swiftly to customer needs, thereby minimising the need for expedited deliveries, which often come with higher environmental costs.

Increasing Service Levels:

Improved demand synchronisation and reduced lead times enhance service levels, ensuring that products are available when and where customers need them. This results in more efficient transportation processes and optimised routes, further contributing to sustainability goals.

Lowering Overall Transportation Costs:

DDMRP's focus on acting based on actual  demand signals and efficient transportation planning reduces transportation costs. By optimising routes and minimising unnecessary movements, companies can lower fuel consumption and emissions, positively impacting the environment and their bottom line.

Better Resource Allocation and Utilisation:

 With real-time visibility into demand, companies can make more informed decisions about resource allocation and transportation asset utilisation. This optimization minimises the number of trips, reduces empty miles, and maximises the efficiency of transportation operations, all of which contribute to sustainability efforts.
Renewable Energy Integration in Transportation
Renewable energy integration in transportation involves adopting sustainable and eco-friendly energy sources to power vehicles and reduce the environmental impact of transportation operations. As concerns about climate change and environmental sustainability escalate, businesses increasingly turn to renewable energy to power their transportation fleets, thereby minimising greenhouse gas emissions and contributing to a cleaner and greener future.
Leveraging Electric Vehicles (EVs)
EVs have emerged as a promising solution to combat the environmental challenges of conventional fossil fuel-powered vehicles. EVs are powered by electricity stored in rechargeable batteries and emit zero tailpipe emissions, making them a viable and eco-friendly alternative for transportation.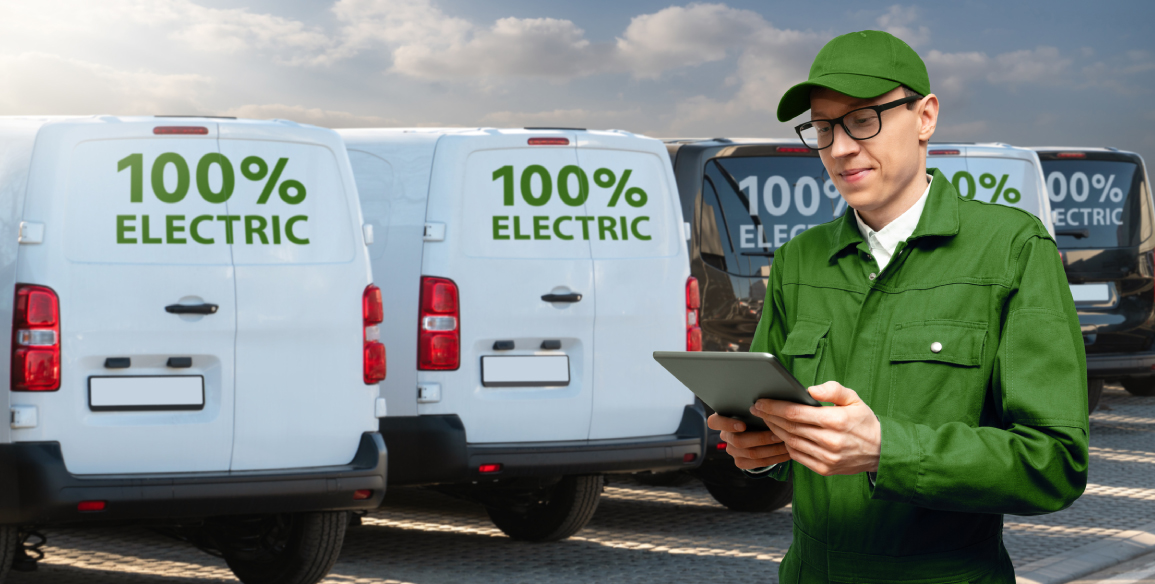 Companies can leverage electric vehicles in their transportation fleets to achieve significant sustainability benefits. By deploying electric delivery trucks and vans, businesses can:
Reduce Carbon Emissions:

The primary advantage of EVs is their ability to operate without burning fossil fuels. Electric vehicles significantly reduce greenhouse gas emissions by eliminating tailpipe emissions, helping companies meet their sustainability targets and support global efforts to combat climate change.

Lower Operating Costs:

Electric vehicles may have higher upfront costs than traditional vehicles, but they offer lower operating and maintenance expenses over their lifespan. With reduced fuel costs and fewer mechanical components, companies can achieve long-term cost savings while promoting sustainable practices.

Enhance Urban Environment:

Electric delivery trucks and vans operate quietly and produce no noise pollution, creating a positive impact in urban areas where noise reduction is a priority. Cleaner air quality, resulting from zero tailpipe emissions, contributes to healthier urban environments and improves the overall well-being of city dwellers.

Capitalise on Incentives:

Many governments and regions provide incentives and subsidies to promote the adoption of electric vehicles. Companies can take advantage of these incentives, reducing the financial burden of transitioning to sustainable transportation.
 Renewable Fuels and Biofuels
In addition to electric vehicles, renewable fuels, and biofuels offer another avenue for reducing the carbon footprint of transportation. Renewable fuels are derived from sustainable and regenerative sources, such as plant-based feedstocks or organic waste materials, making them a cleaner and more sustainable alternative to conventional fossil fuels.
Companies can explore the utilisation of renewable fuels and biofuels in their transportation fleets to achieve the following benefits:
Reduced Greenhouse Gas Emissions:

Renewable fuels, such as biodiesel, renewable diesel, and sustainable aviation fuel, emit fewer greenhouse gases than traditional petroleum-based fuels. Integrating these renewable alternatives in transportation helps curb carbon emissions and mitigate fleets' environmental impact.

Increased Energy Security

: As renewable fuels are produced from domestically available resources, their utilisation enhances energy security and reduces dependence on foreign oil imports, providing greater stability to transportation operations.

Compliance with Regulations:

Many regions and countries have set regulations and targets for reducing carbon emissions. By incorporating renewable fuels into their transportation fleets, companies can stay compliant with these regulations and demonstrate their commitment to sustainability.

Circular Economy Initiatives:

Some biofuels are produced from waste materials, creating a closed-loop system that contributes to circular economy principles by repurposing organic waste into useful fuel sources.
Driving Sustainability through DDMRP and Renewable Energy Integration
Driving sustainability through the combination of DDMRP and renewable energy integration in transportation represents a powerful approach for businesses to enhance the eco-friendliness of their supply chains. By aligning transportation planning with actual demand signals and adopting renewable energy sources, companies can achieve greater efficiency, reduce carbon emissions, and promote environmental stewardship. This harmonious integration allows businesses to optimise transportation networks, embrace greener practices, and contribute to a more sustainable future.
Demand Synchronisation for Efficient Transportation Planning
Demand synchronisation is a pivotal principle of DDMRP that emphasises aligning transportation planning with actual customer demand. Traditional forecasting methods often lead to excess inventory buildup and inefficient transportation routes, resulting in higher fuel consumption and unnecessary carbon emissions. However, with demand synchronisation, companies can accurately forecast demand based on real-time signals, enabling them to plan transportation activities efficiently.
Real-Time Visibility and Data-Driven Decision Making
Real-time visibility in transportation operations is a crucial enabler of sustainability, allowing companies to respond promptly to changing conditions and optimise their routes in real time. By leveraging real-time data, businesses can make data-driven decisions to reduce fuel consumption and carbon emissions, further enhancing the sustainability of their transportation practices.
Responsive Planning for Sustainable Transport
Responsive planning, a core principle of DDMRP, empowers companies to adapt quickly to unforeseen disruptions in transportation. The ability to respond promptly and effectively to unexpected events minimises the environmental impact of disruptions and ensures the continuous flow of goods while adhering to sustainability objectives.
Challenges and Future Outlook
Adopting Demand Driven Material Requirements Planning (DDMRP) and renewable energy integration in transportation faces several challenges, including initial investment costs, infrastructure limitations, technology integration, change management, and regulatory compliance. Overcoming these hurdles requires careful planning, stakeholder collaboration, and sustainability commitment.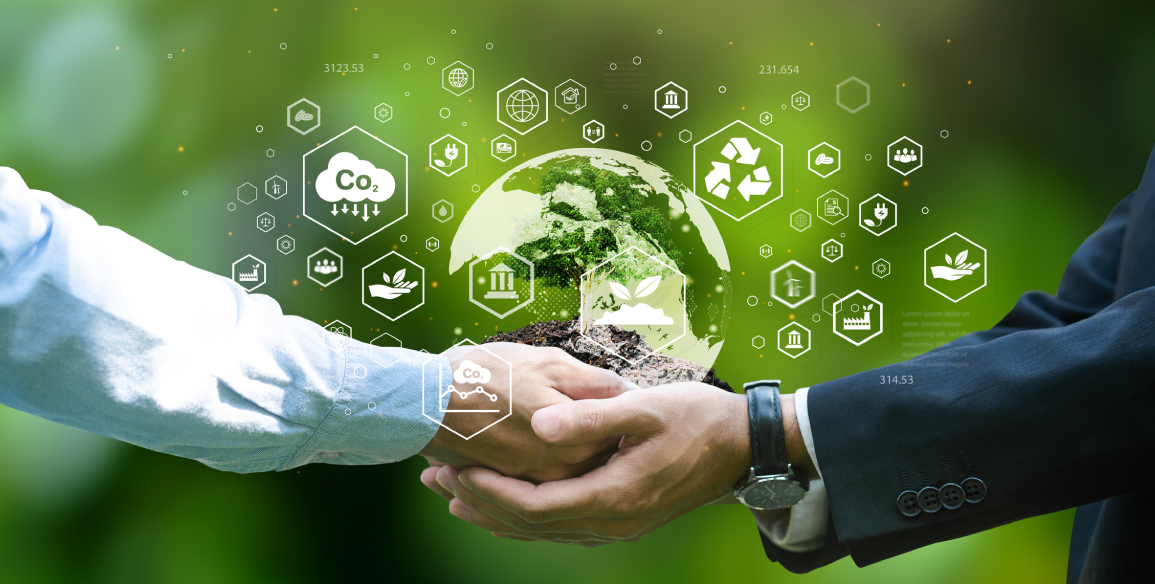 Looking into the future, demand-driven sustainable logistics holds immense potential. Advancements in electric vehicle technology, the growth of renewable fuels, real-time data analytics, and increased policy support are expected to drive the transformation of the logistics industry. As consumer preferences shift towards eco-friendly practices, companies embracing sustainable initiatives will gain a competitive edge and contribute significantly to a greener and more sustainable future for logistics operations. The convergence of innovative technologies, supportive policies, and evolving consumer consciousness will pave the way for a more environmentally conscious and efficient supply chain ecosystem.
Conclusion
Demand Driven Material Requirements Planning (DDMRP) presents a transformative approach to driving sustainable logistics in transportation. By integrating renewable energy sources, such as electric vehicles and biofuels, into transportation networks, companies can greatly reduce carbon emissions and contribute to a greener, more sustainable future. The combination of DDMRP principles, including demand synchronisation, real-time visibility, and responsive planning, empowers businesses to optimise transportation routes, minimise fuel consumption, and enhance overall sustainability in their supply chains. As the global emphasis on environmental responsibility intensifies, embracing DDMRP and renewable energy integration in transportation becomes imperative for a more sustainable and resilient supply chain ecosystem.
Drive sustainable logistics with demand driven transportation. Explore DDMRP and renewable energy integration today!