"Supply Chain 4.0" refers to the reorganization of supply chains — design and planning, production, distribution, consumption, and reverse logistics – utilizing "Industry 4.0" technology. These technologies originated in the twenty-first century and are used mainly by enterprises at the cutting edge of supply chain management in high-income nations. Though this classification is somewhat arbitrary, as we shall demonstrate, it reflects some prevalent views about what enterprises need to do to sustain competitive supply chains.
When we say Supply Chain 4.0 is here, we mean that it is at the cutting edge of supply applications and is becoming more widely utilized, not universal. Even in high-income nations, Supply Chain 4.0 concepts are used unequally. Advanced supply management techniques have more potential to be seen in industries like electronics, where earlier waves of management techniques gained root initially, or in large-box shops like Walmart. In February 2018, supply chain issues forced the closure of two-thirds of the 900 Kentucky Fried Chicken locations in the United Kingdom due to a lack of chicken.
Changing business models to make supply more customer-driven
While Supply Chain 4.0 incorporates modern tools such as the Internet of Things (IoT), big data analytics, autonomous robots, and other similar technologies, it is not actually about any of these. It is about changing the supply chain management paradigm from a linear model in which instructions pass from supplier to production to distributor to customer and back to a more integrated one in which information flows to the supply chain in an omnidirectional fashion. While leading corporations are increasingly evaluating this data through "supply chain control towers," the final result might be that the product's economy becomes more responsive to customer demand.
Changing the operations of global value chains
Supply Chain 4.0, regarded as an advanced management practice or a set of technologies to be deployed by evolved management practices, offers significant prospects for enterprises to improve productivity, profitability, product quality, and performance in international commerce. Because Supply Chain 4.0 spreads at a variable rate, it has the potential to alter company size distribution within industries as well as income distribution between nations.
The improved capacity to track physical and financial information has consequences for government activities that rely on highly disaggregated business data, such as tax enforcement and monitoring of origin laws in international commerce.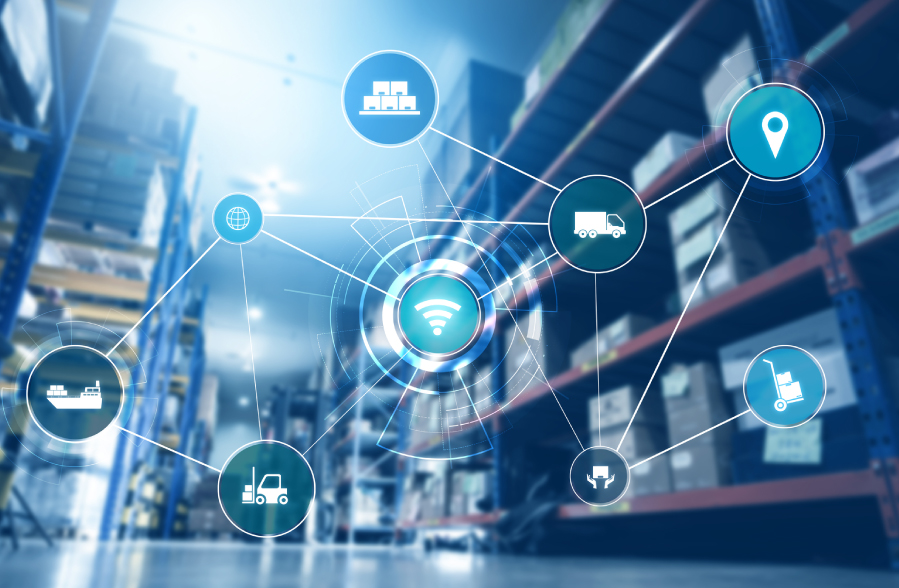 How to increase operational efficiency with the use of Supply Chain 4.0?
Supply Chain 4.0 will have an impact on all aspects of supply-chain management. This is clear in how the primary Supply Chain 4.0 improvement levers mapped to the six main value drivers. Finally, the enhancements significantly improve service, cost, capital, and agility.
Supply-chain planning will benefit greatly from big data, sophisticated analytics, and knowledge work automation. Several major consumer-goods companies are already using predictive analytics in demand planning to explore hundreds to thousands of internal and external demand-impacting variables (e.g., weather, social network trends, sensor data), using machine-learning approaches to model complex associations and derive an exact demand plan. Forecasting mistakes are frequently reduced by 30 to 50%.
Heavy automated and fully integrated demand and supply planning break conventional barriers between planning phases and converts planning into a flexible, continuous process. Each replenishment-planning operation reconsiders the predicted demand probability distribution rather than employing predefined safety stockpiles. As a result, the implied safety stocks change with each order. Prices can then be dynamically adjusted to maximize profit while minimizing stockpiles.
Several of the most renowned worldwide companies in the consumer products business are adopting advanced planning methodologies, and there is considerable interest in broader applications.Below are examples of adopted methodologies:
1. Physical movement
Better connection, improved analytics, additive manufacturing, and advanced automation will propel logistics forward, upending old warehouse and inventory-management tactics. Wearables, for example, currently provide employees with location-based instructions and guiding procedures. Advanced robots and exoskeletons can potentially have a similarly profound impact on human productivity in warehouses.
2. Autonomous and intelligent cars will result in considerable cost savings in transportation and product handling while lowering lead times and environmental costs. 
By connecting warehouses to production loading sites, entire operations may be carried out with minimum manual involvement. Finally, when manufacturing facilities rely more on 3-D printing, the warehouse's function may shift radically.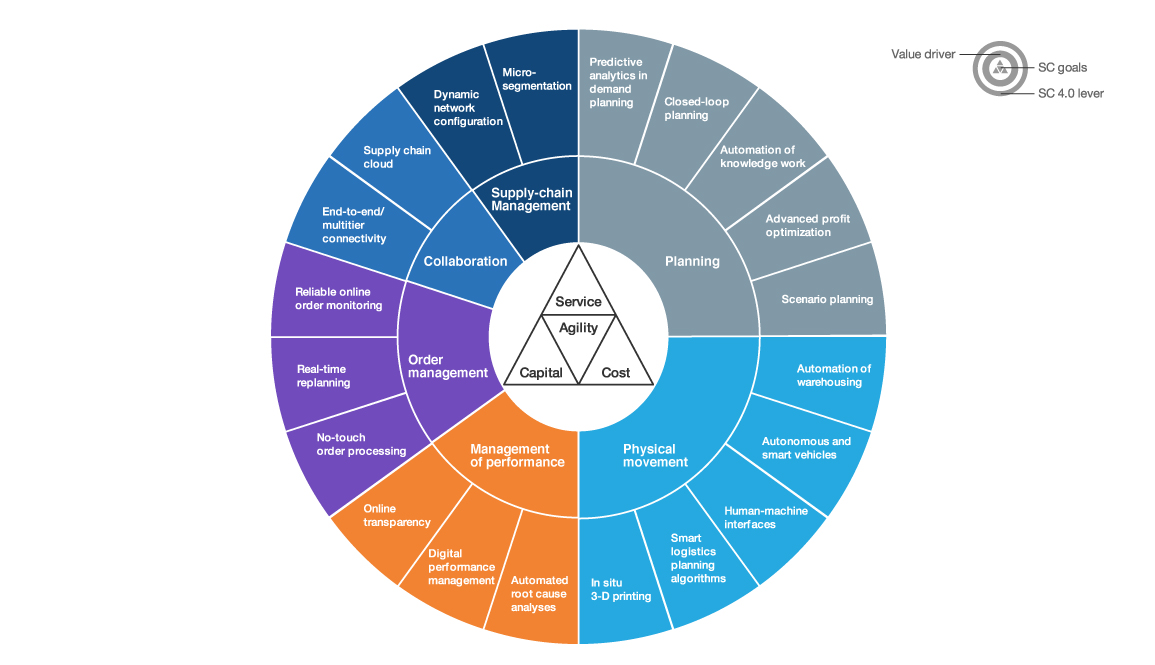 3. Management of performance
Performance management is also evolving dramatically, with some big food firms pioneering the use of sophisticated, constantly updated, readily adaptable dashboards throughout their operations. Dashboard generation used to be a considerable undertaking, and performance indicators were only provided at aggregated levels. Instead of being a monthly or quarterly retrospective exercise, performance management is evolving into a fully operational process focused on real-time exception handling and continuous improvement. This sort of redesigned performance-management system may detect the leading causes of an exception by comparing it to a preset set of underlying indicators or by doing extensive data analysis. The system can then automatically initiate countermeasures, such as triggering a replenishment order or altering safety stock or other parameter settings in the planning systems. The warehouse's role may shift dramatically.
4. A pair of measures improve order management
No-touch order processing connects the ordering system to the available-to-promise process, and real-time replanning allows order-date confirmations by the rapid, in-memory rebuilding of the production schedule and replenishment requirements while taking into account all constraints. The result is lower costs (because of increasing automation), higher dependability (due to granular feedback), and a better customer experience (via immediate and reliable responses).
5. Collaboration
The supply-chain cloud is the next level of supply-chain cooperation. Supply-chain clouds are collaborative supply-chain platforms that provide a shared logistical infrastructure or even joint planning solutions for consumers, the firm, and suppliers. Partners, particularly in non-competitive partnerships, might undertake supply-chain chores collaboratively to reduce administrative expenses and learn from one another.
6. Supply-chain Management
Incorporate many more elements in response to the demand for increasing individualization and customization of the supply chain. To succeed in this environment, supply chains must grasp micro-segmentation. A dynamic, big data strategy enables the mass customization of supply-chain products by dividing the supply chain into hundreds of unique segments, each based on client requirements and the company's capabilities. Tailored goods deliver the most value to the client while reducing costs and inventory in the supply chain.
What are the Effects of Supply Chain 4.0?
Eliminating today's digital waste and embracing future technologies create a significant lever for improving supply chain operational performance. Supply Chain 4.0 can potentially have a massive influence in the next two to three years. Some of the impacts of supply chain 4.0 on consumer goods are :
Supply-chain service/sales loss
When customer service is terrible, the cause is a false promise to the customer, an incorrect inventory profile (ordered items are unavailable), or/or unreliable part delivery. Also, lost sales occur when the essential things are unavailable on the shelf or in the system; buyers will opt to move to another brand. This is true in both B2C and B2B settings.
When the supply chain significantly improves customer interactions, leverages all available point-of-sale data and market intelligence, significantly improves forecast quality (up to more than 90% in the appropriate level, e.g., SKU), and applies demand shaping methods in conjunction with demand sensing to account for systematic changes and trends, the service level will increase dramatically. Lost sales will be significantly reduced as a result of the improved service.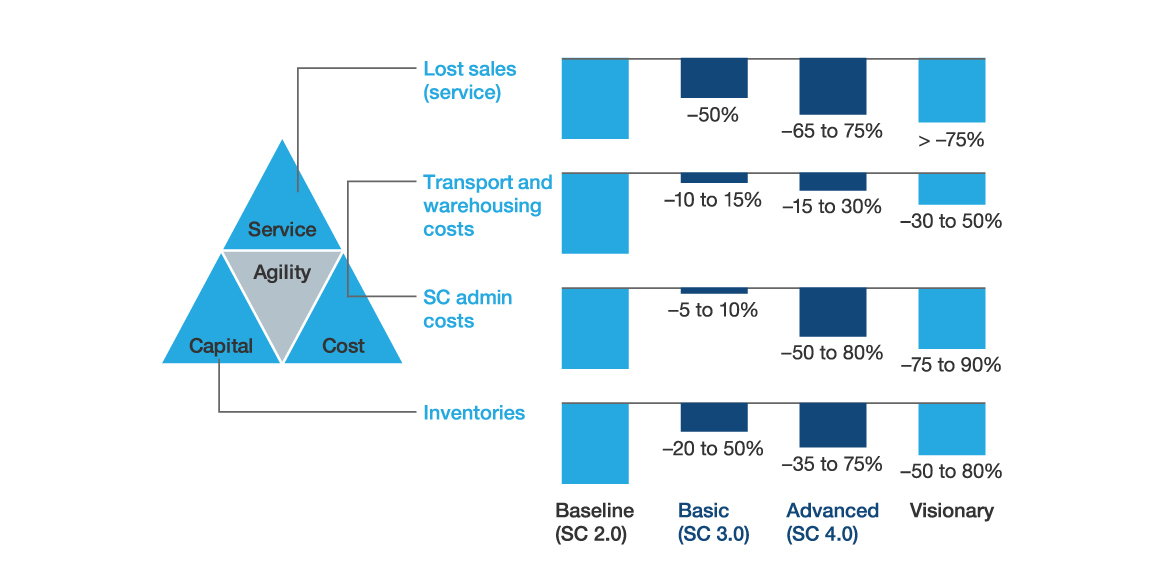 Transportation, warehousing, and overall network setup expenses can be cut by up to 30%. Applying modern methods to determine the clean-sheet costs (bottom-up computation of the "actual" costs of the service) of transportation and storage and optimizing the network can achieve almost half of this improvement. The objective should always be to have as few contact points, and kilometers traveled as possible while still providing the needed service quality to the client. These initiatives, when combined with intelligent automation and efficiency improvements in warehouses, onboard units in transportation, and so on, have the potential to save money.
Demand planning, S&OP process preparation, aggregate production planning, and supply planning are time-consuming and primarily manual operations. With improved system assistance, 80 to 90 percent of all planning processes may be automated while ensuring higher quality than human operations. The S&OP method will be implemented every week, and the decision-making process will be based on scenarios that may be updated in real-time. This combination of precision, granularity and speed have consequences for other factors such as service, supply-chain costs, and inventories. Systems will be able to recognize the exceptions when a planner must intervene to make a decision.
Decouples market need and supply and buffers demand and supply unpredictability. Implementing modern planning algorithms will greatly minimize uncertainty (the standard deviation of the demand/supply or prediction error), eliminating the need for safety stock. The replenishment lead time is another essential component that drives inventory: with ideal lot size one production and faster changeovers, the lead time will be significantly decreased. Long transit times, such as those from Asia to the European Union or the United States, will also be reduced due to a significant rise in local-for-local production. Furthermore, 3-D printing will lower the amount of inventory necessary.
Conclusion
It is risky to extrapolate a snapshot of recent history, whether technology, institutions, or economic trends, far into the future. Current supply chain advancements appear to be job-creating, but this might change if robots advance in specific ways. Technology may advance in very unexpected ways. Or, more pessimistically, its spread might stop, confining the use of Supply Chain 4.0 to existing high-income nations and contributing to global economic disparity, as Industry 4.0 may already be doing. Concerns about consumer privacy might easily prompt governments to take action to prevent some of the issues mentioned here. 
Interested in knowing how Patrick Rigoni can step up the game of your supply chain? Contact us today and get a free consultation. 
Patrick Rigoni also offers in-depth DDMRP courses, if you are interested to know more about DDMRP for supply chain for your company, here is the link to the NEW DDMRP Page.