In the ever-evolving global commerce landscape, supply chains play a pivotal role in ensuring the smooth flow of goods and services. However, in recent years, these intricate networks have been subjected to unprecedented challenges, including natural disasters, economic disruptions, and a global pandemic. The need for resilient supply chains has never been more critical to navigate these turbulent times successfully. In this article, we will explore the importance of resilience in modern supply chains and highlight the need for a catalyst to achieve it. We will delve into the challenges and vulnerabilities supply chains face and introduce Demand-Driven Material Requirements Planning (DDMRP) as a solution that catalyzes building resilience.
The Resilience Imperative
A resilient supply chain can adapt and recover swiftly from unforeseen disruptions. It can withstand shocks and maintain essential operations even in challenging circumstances. The following factors underscore the importance of resilience in supply chains:
1. Navigating Disruptions
Supply chains are inherently susceptible to many disruptions, ranging from natural disasters like earthquakes and hurricanes to economic downturns and geopolitical conflicts. These disruptions can wreak havoc on the supply chain's delicate balance, causing production delays, shortages of critical components, and, in the worst-case scenario, a complete supply chain breakdown.
Resilience emerges as the crucial linchpin in mitigating the impact of these disruptions. A resilient supply chain is better prepared to face and overcome such challenges. It has contingency plans to address unexpected events, enabling it to operate efficiently amid chaos. By proactively assessing and preparing for disruptions, supply chains can limit the damage inflicted by these external forces and swiftly get back on track.
2. Globalisation and Complexity
Modern supply chains have evolved into vast, intricate networks that often span the globe. They involve multiple suppliers, manufacturers, and distribution points, interconnected through complex transactions and dependencies. While globalisation has opened up new markets and opportunities, it has also increased the complexity of supply chain operations.
This globalisation and complexity expose supply chains to heightened vulnerability when disruptions occur. An event in one part of the world can trigger a cascading effect that reverberates throughout the supply chain. The interconnectivity of global supply chains can amplify the impact of disruptions, making resilience essential to maintaining efficient operations.
Resilient supply chains actively manage and mitigate the risks associated with global operations. They diversify their supplier base, consider multiple transportation options, and have robust contingency plans to respond to disruptions worldwide. Proactively and flexibly, they can navigate the complexities and challenges associated with global operations.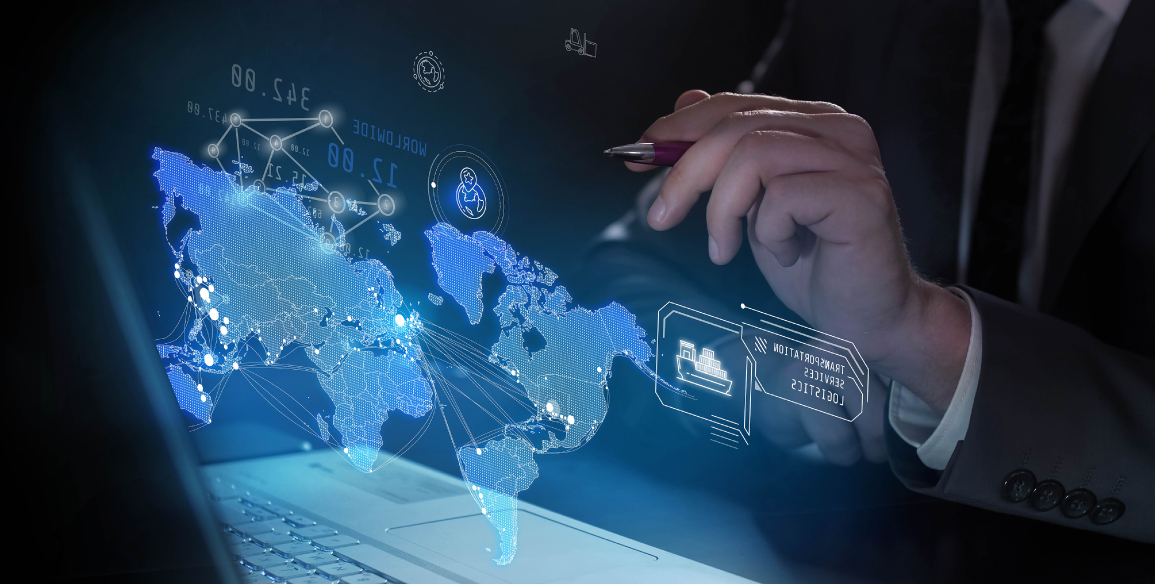 3. Customer Expectations
In the 21st century, customer expectations are at an all-time high. In this consumer-centric world, customers demand high-quality products and reliable and rapid delivery. Any disruption in the supply chain can lead to customer dissatisfaction and, subsequently, a loss of business.
Resilient supply chains understand the importance of meeting these customer expectations consistently. They strive to maintain a high level of service even in the face of disruptions. By implementing redundant supply sources, maintaining safety stock, and having a well-thought-out crisis management plan, resilient supply chains ensure that customers continue to receive their orders on time. This retains customer trust and can lead to a competitive advantage in the marketplace.
The Catalyst for Resilience
While the importance of resilient supply chains is evident, building and maintaining such resilience can be daunting. This is where a catalyst for resilience comes into play. A catalyst is something that triggers or accelerates a process. Demand-Driven Material Requirements Planning (DDMRP) serves as a catalyst for building resilience in supply chains.
1. Understanding DDMRP
DDMRP is an innovative approach to supply chain management that offers a dynamic and responsive alternative to traditional Material Requirements Planning (MRP) systems. Unlike traditional MRP systems, which rely heavily on forecasts, DDMRP is demand-driven, focusing on real-time customer demand and actual inventory levels. This shift in perspective allows for a more agile and resilient supply chain.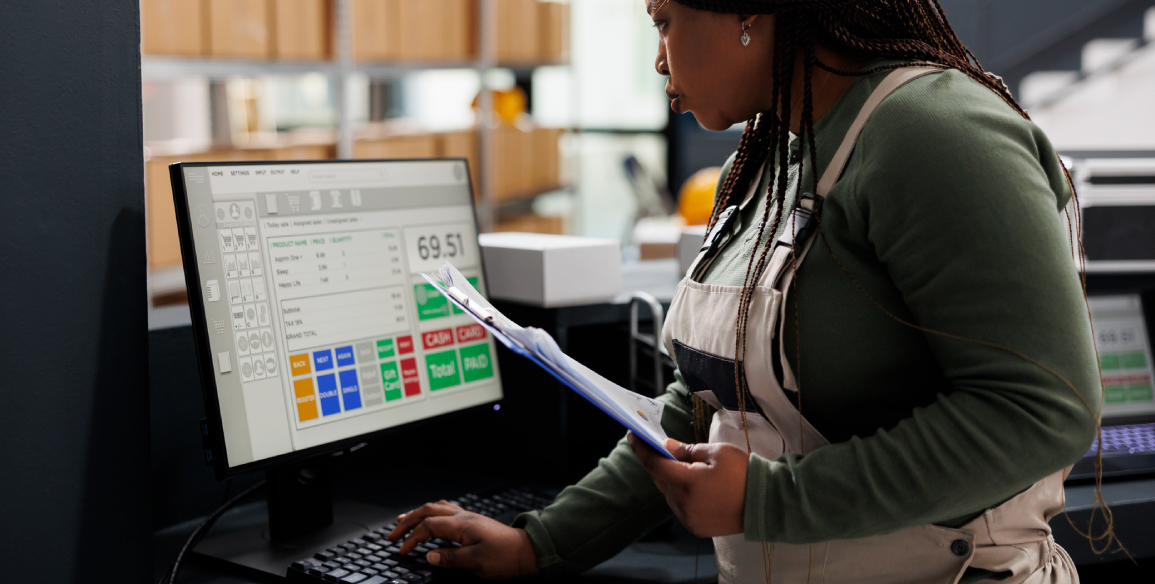 2. The Key Principles of DDMRP
DDMRP operates on a set of core principles:
1. Decoupling: The Key to Supply Chain Resilience
One of the fundamental principles of Demand Driven Material Requirements Planning (DDMRP) is the concept of decoupling. Decoupling in supply chain management is a fundamental strategy aimed at establishing autonomy and efficiency within the intricate web of material flow. It entails the creation of independence between the supply and use of materials, primarily by introducing inventory buffers between various operational stages. This strategic manoeuvre ensures that fluctuations in the production rate of one operation do not impede the production or utilisation rates of the subsequent operation. These pivotal locations in the product structure or distribution network, where inventory is thoughtfully placed, are known as decoupling points. The selection of these decoupling points is a strategic decision that carries significant implications, as it directly influences customer lead times and inventory investments. 
The key objective of maintaining decoupling inventory is to break the link between the consumption rate and the supply rate of an item. This intervention prevents the undesirable transfer and amplification of variability in both directions, making it an essential element for streamlining operations, shortening planning horizons, and compressing lead times in the world of manufacturing and distribution.This separation ensures that supply chains remain agile and responsive to changes in demand without becoming overwhelmed by excess materials, ultimately reducing the risk of disruptions due to sudden demand or supply fluctuations.
DDMRP allows supply chains to function more flexibly by using decoupling as it's core function.Here's how this principle works:
Reducing Overstock:

Decoupling helps to eliminate overstocking of materials. In traditional supply chains, excess inventory is often held in anticipation of demand, resulting in high carrying costs and an increased risk of obsolescence. With decoupling, supply chains can maintain leaner inventories, reducing the financial burden and minimising exposure to potential losses.

Enhancing Responsiveness:

Decoupling in supply chain management fosters responsiveness by introducing strategic inventory buffers and independent points in the production and distribution processes. This approach enhances flexibility, reduces lead times, and allows for better management of demand variability. By ensuring smoother production schedules, improving customer service, and mitigating risks, decoupling empowers supply chains to respond promptly and effectively to changing market dynamics and customer demands, ultimately improving overall performance and customer satisfaction.

Minimising Bullwhip Effect:

Decoupling mitigates the bullwhip effect, a phenomenon where small fluctuations in customer demand can amplify as they travel upstream through the supply chain. DDMRP can reduce this distortion and enable better supply chain coordination by allowing information to flow more freely and efficiently.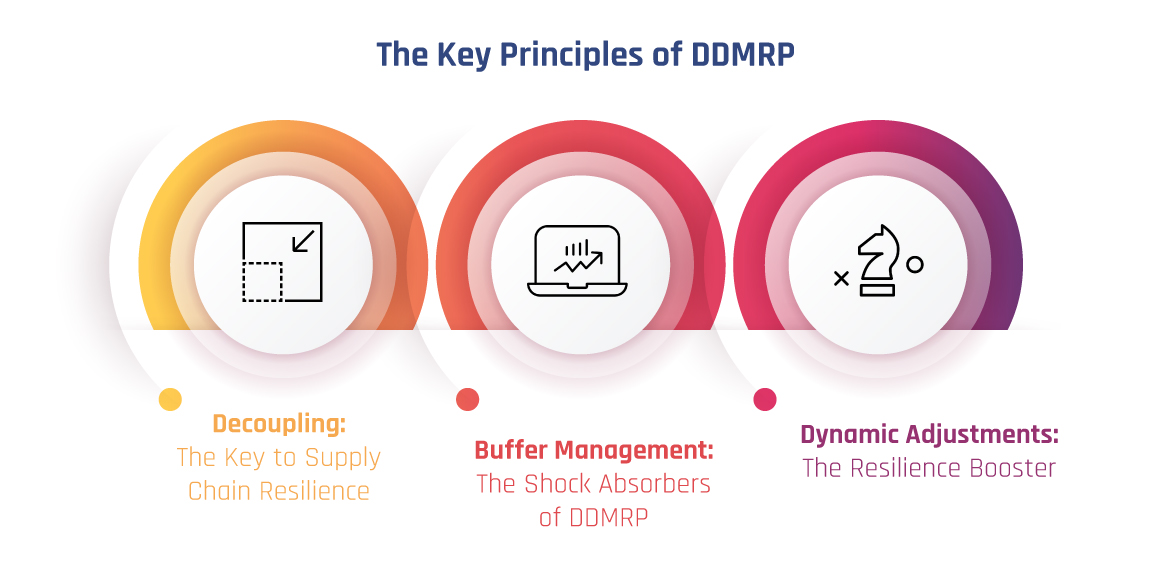 2. Buffer Management: The Shock Absorbers of DDMRP
DDMRP introduces a crucial concept known as buffer management, which serves as a set of shock absorbers in the supply chain. These strategically placed inventory buffers are designed to mitigate the impact of variability in demand and supply lead times, allowing the supply chain to adapt to unexpected disruptions without causing extensive delays.
Buffer management in DDMRP is a dynamic approach to managing inventory. The key features of buffer management include:
Variable Buffer Sizing:

Buffer sizes are not fixed but are adjusted based on the variability in demand and supply lead times. Larger buffers are established in areas with more significant fluctuations in demand or longer lead times. Conversely, areas with more stability may have smaller buffers. This flexibility ensures that the supply chain can respond effectively to specific conditions in different parts of the supply chain.

Strategic Placement:

Buffers are strategically located at various points in the supply chain, ensuring that they act as shock absorbers at critical junctions. For example, they might be placed between suppliers and manufacturers, at distribution centres, or near final assembly points. This strategic placement helps reduce disruptions' impact at these critical points.

Demand-Pull Mechanism:

Buffers are not replenished based on forecasts but are demand-driven. When the actual consumption of materials depletes a buffer, the DDMRP system triggers the replenishment of those materials. This ensures that materials are available when needed without excessive inventory buildup.
3. Dynamic Adjustments: The Resilience Booster
A fundamental aspect of Demand-Driven Material Requirements Planning (DDMRP) is its dynamic adjustment capability. DDMRP continuously monitors the actual demand and consumption of materials in the supply chain. When forecasted and actual demand discrepancies arise, the system dynamically adjusts buffer levels and replenishes materials. This real-time responsiveness ensures supply chains can adapt swiftly to changes in the external environment, ultimately boosting resilience.
The dynamic adjustments in DDMRP can be broken down into several key aspects:
Real-Time Monitoring:

DDMRP systems actively monitor and track the actual demand for materials and their consumption at various points in the supply chain. This data is continuously updated and analysed to reflect current requirements accurately.

Buffer Recalibration:

When there are differences between forecasted demand and actual consumption, DDMRP dynamically recalibrates buffer sizes. If demand is higher than expected, buffer sizes may be increased to ensure that materials remain available. Conversely, if actual demand is lower, buffer sizes may be reduced to prevent excessive inventory buildup.

Demand-Driven Replenishment:

DDMRP employs a demand-pull mechanism for replenishing materials. This means replenishment is initiated based on actual usage rather than forecasted requirements. The system automatically replenishes materials when a buffer is depleted to maintain optimal inventory levels.
3. The Role of DDMRP as a Catalyst
DDMRP serves as a powerful catalyst for building resilience in supply chains by addressing vulnerabilities and enhancing adaptability. DDMRP achieves this by reducing lead times, enhancing visibility, and improving risk management.
Reducing Lead Times:

Extended lead times are a significant source of supply chain vulnerability. DDMRP tackles this issue by dynamically managing inventory buffers and adapting them to demand and lead times. This approach maintains optimal inventory levels, ensuring the supply chain responds quickly to disruptions and changing customer demands. By reducing lead times, DDMRP contributes to the supply chain's agility and capacity to navigate unforeseen challenges effectively.

Enhancing Visibility:

DDMRP provides real-time inventory and order status visibility throughout the

supply chain

. This visibility enables supply chain managers to make well-informed decisions and take prompt action to address potential disruptions. Enhanced visibility is a crucial component of resilience, as it allows supply chains to proactively identify issues and adjust operations as needed, ensuring the smooth flow of goods and services.

Improved Risk Management:

DDMRP significantly enhances risk management by identifying potential disruptions in advance. Through continuous monitoring and dynamic adjustments, the system helps supply chain managers foresee challenges and proactively mitigate risks. Adapting buffer levels and strategically reinforcing them in anticipation of disruptions provides an essential layer of defence against potential disruptions. This risk management capability strengthens the supply chain's resilience and ensures it can continue operating smoothly, even in adverse conditions.
Challenges in Implementing DDMRP
While DDMRP offers substantial benefits in building resilient supply chains, its implementation may encounter some challenges:
Change Management:

Shifting from traditional MRP systems to DDMRP necessitates a change in mindset and practices. Employees and stakeholders must adapt to new processes, tools, and methodologies. Resistance to change is a common challenge, and organisations must invest in change management strategies to facilitate a smooth transition.

Data Quality:

The success of DDMRP relies on the accuracy and reliability of data. This includes precise demand forecasting and lead time information. Maintaining data quality can be challenging, requiring consistent data collection and management practices. More accurate and consistent data can be needed to maintain the effectiveness of DDMRP.

Initial Investment:

Implementing DDMRP may require an initial investment in technology, software, and training. While the long-term benefits, such as improved resilience and cost savings, far outweigh the initial costs, organizations must be prepared to make these investments.
Conclusion
Resilient supply chains are imperative in today's rapidly changing global business environment. They are essential to withstand disruptions, manage complexity, and meet customer expectations. While the challenges of building resilience in supply chains are significant, DDMRP catalyzes this transformation.
DDMRP's principles of decoupling, buffer management, and dynamic adjustments offer a dynamic and responsive approach to supply chain management. By reducing lead times, enhancing visibility, and improving risk management, DDMRP helps supply chains become more resilient and agile.
Ready to fortify your supply chain resilience with the ultimate catalyst? Discover the power of DDMRP today!