With the first half of 2021 already behind us, the supply chain world is at a defining crossroads. The effects of the pandemic continue to ripple through the global economy, even as industries like tourism and entertainment are experiencing a welcome revival. Given this backdrop, it was all the more fitting that Reuters held its virtual conference, Supply Chain Europe 2021, at such a pivotal intersection.  The digital event brought together more than 2000 attendees from May 19-20 to discuss a range of topics at the forefront of the European supply chain space this year. 
Staying aware of industry changes is woven into the fabric of Patrick Rigoni's consultancy. As a thought leader on Demand Driven methodology, he had a front seat at Supply Chain Europe 2021, gathering critical data about the road ahead. 
Curious to catch highlights from the event and hear Patrick's perspective? We've rounded up all the details & checked in with Patrick to get his take in an exclusive Q&A. Read on to discover everything you need to know about Supply Chain Europe 2021…
An Ambitious Agenda
In just two days, the conference covered a sweeping range of topics that touched on six key themes:
Positioning supply chain as a driving force in your business

Delivering empirical successes of sustainable supply chain excellence

Digitally enabled visibility to maximize supply chain resilience 

Crucial strengthening of supplier and partner relationships to protect business continuity

Technology innovations to power supply chain performance

Managing critical capacity restraints from manufacturing to logistics

Major players in the global supply chain served as key speakers and attendees at the event, hailing from giants like DHL, DB Schenker, Sony, and Unilever. Leaders from a range of industries — pharmaceuticals to logistics and technology — gathered to share insights on maximizing operations, building (or rebuilding) networks, and trimming inefficiencies. All of this on the heels of a global pandemic that stalled and uprooted supply chains from end to end.
Day One: Resilience, Digital Visibility, & Strengthening Connections
Kicking off the conference on May 19th were a series of Fireside Chats led by executives from a broad range of industries. 
Sami Naffahkh, CSCO, Member of the Group Executive Committee at Rekkit, led one such discussion on positioning "supply chain as the driving force of your business." The talk highlighted the importance of strengthening supply chain resilience by removing fragility, collecting and visualizing data, and advocating for a significant stakeholder position. Following were two related Fireside Chats on logistics in a post-pandemic world (hosted by Karen Reddington, President at FedEx Express Europe) and location-intelligent supply chain management (Jørgen Behrens, CPO, HERE Technologies). 
The conference then switched gears towards digital visibility, covering topics like anticipating change to improve decision-making and foster medical innovation (Steffen Lang, Novartis) and navigating the rise of e-commerce (Nick Basford, Vice President, Global Retail & eCommerce, UPS). Later, Ewan Andrew, President of Global Supply Chain & Procurement and Chief Sustainability Officer at Diageo, shared real-world lessons from his company's proactive approach to consumer habit shifts, emphasizing resilience and agility.

Following several Live Interactive speakers who touched on end-to-end shipment visibility and Post-Brexit trading, the afternoon's Fireside Chats focused on fortifying supplier-partner relationships. "Resilience" remained a buzzword as Unilever's Head of Supply Chain – Foods & Refreshments took the mic to share insights on streamlining digital collaboration and developing "a multi-faceted, flexible" supply chain. Later, senior leaders from China Telecom Europe shed light on cloud computing and its potential to build — you guessed it — resilience. Day one of Supply Chain Europe came to a close with a panel discussion on value-based partnerships and a workshop dedicated to tackling "peak season" and "capacity crunch."
Day Two: Sustainability, Technology, & the post-COVID era
How can technology support sustainable supply chain networks and help companies navigate the path out of the pandemic? This question was front and center across a series of Fireside Chats and panel discussions on the second day of Reuters Supply Chain Europe event. 
Senior executives from Arlo Foods, PepsiCo, and Maersk — to name just a few — dished on harnessing digital power to fortify the supply chain against future instability. Coming fresh off a year dominated by chaos and uncertainty, the call to "build back better" resonated as Professor Janet Godsell of WMG, Warwick University reflected on sustainable consumption post-COVID. Jennifer Bisceglie, President, CEO & Board Member at Interos argued that black swan events like the pandemic need not disrupt the supply chain; there is no excuse for "not knowing" thanks to digital analytics and simulation tools. 
Recovering — and learning — from the tumult of the last year stayed front and center as the conference wrapped up Thursday afternoon. What's in store on the "road ahead" and how can supply chains come out the other side of this pandemic stronger? How can technology help us "build back better"? Supply chain leaders from Kellogg's, IBM, and CSCMP delivered thoughtful insights aimed at answering these questions and more. Now that this much-anticipated industry event has wrapped up, we asked Patrick Rigoni to share his top takeaways from Supply Chain Europe 2021: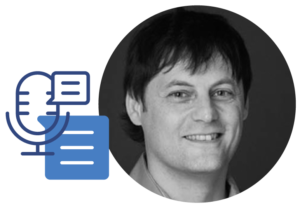 How do you think supply chain management will "build back" better after the pandemic?
Patrick Rigoni: Firstly, by educating people in strategic supply chain management. It is surprising how often you encounter staff that lack basic understanding of inventory management, even in big companies.
People are typically well trained in the silo they operate in (Plan, Source, Make, Distribute, etc.) and know how to optimize the performance within their area, but when it comes to understanding how does it all work together as a system of interconnected parts, then there is a lack of knowledge and skills.
What did you think about the speakers' focus this year on resilience and flexibility? How does that sync up with the Demand Driven methodology which was already ahead of this focus since 5 years ago?
Patrick Rigoni: Finally. This has been the main focus in the Demand Driven community during the last ten years. The entire concept of Demand Driven and DDMRP is about the use of buffers at decoupling points to shorten lead times, absorb volatility, stop the propagation of the bull-whip effect and thus become flexible, robust and resilient. All companies that have taken this road can confirm and testify that. Unfortunately most of the technology for supply chain management tries to achieve this outcome using the wrong approach: they still use forecasts – which are highly uncertain – to create end-to-end plans and then apply massive computing and AI to correct and adapt those plans as the situation evolves. The Demand Driven approach is much more elegant and much less resource intensive: it provides better results with much less effort.
What was the most important insight / topic in your opinion that should be given more focus from Supply Chain Europe 2021?
Patrick Rigoni: We should discuss less about technology and more about fundamental principles. Companies need to rethink the financial tools they use in the supply chain.
Financial accounting has been developed for reporting, not for tactical and operational decision making in supply chain, and the practice of unitizing fixed costs is responsible for most of the silos thinking which is so damaging to supply chain performance.
Curious to know more about the Demand Driven methodology and how it can be applied to your supply chain business?