As the clock struck midnight on January 1, 2020, the world was blissfully unaware that a crisis of meteoric proportions was set to unfold across the next 12+ months. No doubt the ramifications of the COVID-19 pandemic will be felt for years to come. No continent, no industry has been spared. 
Supply chain managers were caught off-guard as they watched demand plummet to new depths (think: air travel) or, conversely, soar to unexpected heights (toilet paper, personal protective equipment, hand sanitizer, to name but a few highly sought after products) The pandemic has been characterized as a black swan event, and for good reason.  
It was unpredictable, relentless in impact across sectors, and carried severe consequences. Yet these effects could have been mitigated or avoided altogether with comprehensive stress-testing and proactive decision-making. By employing Demand Driven supply chain planning methodology, companies can shield themselves from even the most unfathomable, hard-hitting crises. With the right skills, mindset, and technology in place, supply chains can stay afloat – even thrive – amid turbulent waters.
Who Took the Hardest Hit?
The COVID-19 crisis was merciless, dealing a powerful blow to industries as far-ranging as public transportation systems to hotels. In fact, Accenture reported 94% of Fortune 1000 companies experienced supply chain disruptions as a result of the pandemic, and 75% of those companies dealt with "negative" or 'strongly negative" impacts on business. 
Supply chain managers had to think fast on their feet as the flu-like virus devastated the global economy and upturned even the best laid plans. 
For some industries, the pandemic was particularly corrosive. Arts & entertainment, accommodations and food services, transportation and warehousing, manufacturing, mining, quarrying, and oil & gas extraction were so badly burned that it may take up to 5 years to see a recovery — if all goes well. 
It was a perfect storm, a collision of factors that in combination led to upheaval across the supply chain. Perhaps even more frustrating, so much of this chaos could have been prevented with a Demand Driven supply chain planning approach.
Extreme Shifts in Supply & Demand
Seemingly overnight, consumer demands simultaneously nosedived and took flight in previously unimaginable directions.  While N-95 masks disappeared off shelves, planes took off with row upon row of empty seats. Feast and famine, without a moment's notice. 
A cascade of disruption crumbled supply chains in one fell swoop. The impact ricocheted from China to Italy to Brazil and back. No segment of the supply chain – from raw materials to products on shelves – was spared. The lightning speed transformation of consumer behavior (and thus, demand) was unprecedented. It was a true black swan event.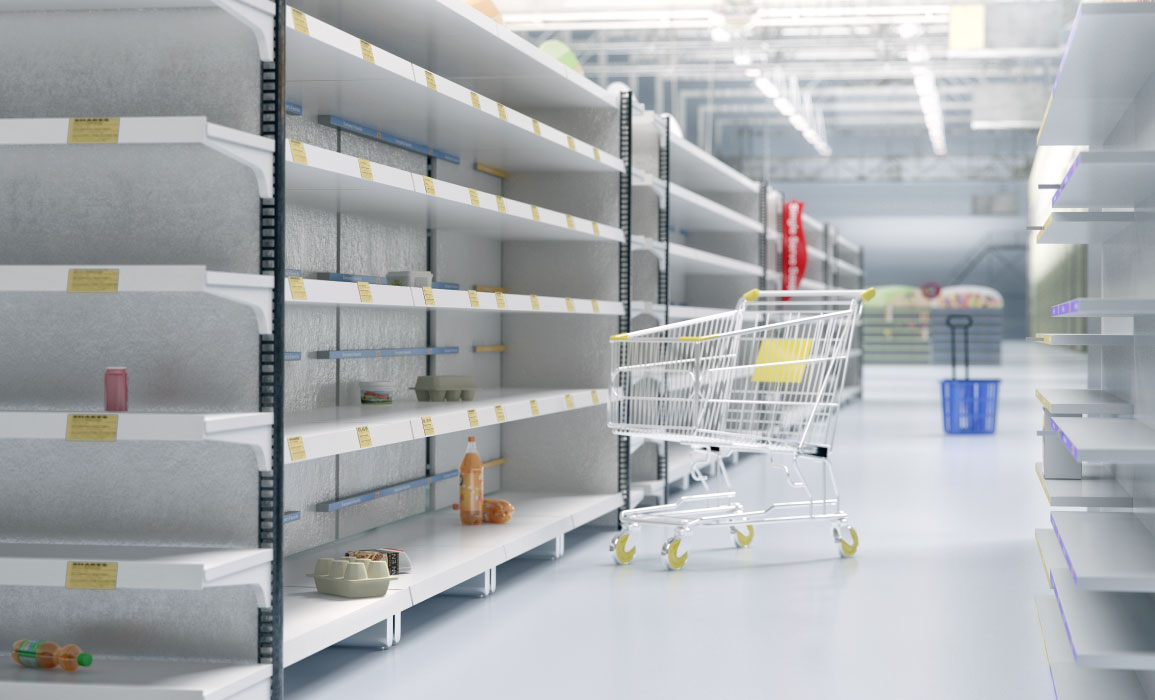 It all began in Wuhan. As it happens, the Chinese city that was ground zero for the pandemic in January of 2020 is also a major supply chain hub for key players in high tech and modern manufacturing, among others. Of the Fortune 500 global firms, 200 have a direct presence in Wuhan itself. 
Suddenly, factory production slowed to a crawl — or worse, came to a screeching halt. The spotlight- initially zoomed in on Wuhan- cast a wider net, engulfing Asia, Europe, Africa, the Americas. In the span of a few months, the scope of the crisis had grown beyond measure.
Reacting to Crisis
As the pandemic touched down in China and quarantines began, companies that were directly impacted through exposure to the outbreak began taking action. 
Some moved available inventory out of quarantine zones and into ports where it might be shipped out more easily. Others bought additional raw materials and inventory in advance, recognizing that supplies were low in affected regions. Companies tried to exercise their agility, switching to secondary suppliers for alternative, pre-approved material substitutions when a primary supplier was cut off. 
But what seemed at first a shorter-term, acute, location-specific crisis quickly took shape into a global disaster with exponentially increasing implications across supply chains. Dwindling supplies, stock stuck in limbo, price increases on raw materials, and concerns over meeting contractual obligations fueled anxiety as weeks turned into months. 
Companies attempted to predict the footprint and timeline of COVID-19, forecasting shifts in supply and demand, but most were flying blind. Without a Demand Driven methodology in place, supply chain managers simply weren't prepared to handle uncertainty on this scale.
As the pandemic bore on, companies experienced unexpected interruptions in cash flow. Across the board, this remains one of the most significant and far-reaching effects of COVID-19 on the supply chain.
How did the fast-spreading virus lead to losses in profit? Late customer payments, inadequate cash monitoring, and faulty investment strategies are just a few of the missing links. With a strong risk-management strategy in place, however, navigating the inevitable dips in cash flow is possible– even in the midst and of a major global crisis.
Long-Term Ramifications 
More than a year after the pandemic struck, the shockwaves continue to ripple across the supply chain. What are the long-term implications?
For starters, reduced efficiency and lagging production have taken a toll. Factory output slowed as regions went into lockdown and borders shut down. Even after the heaviest quarantine restrictions were lifted, strict impositions on movement between countries and continents continues. New, time-intensive cleaning protocols have also detracted from efficiency. It's simply impossible for goods to travel at the same speed through the supply chain in this post-pandemic world. 
Another shift: the emphasis on local as supply chains on a global scale grinded to a halt. The greater unreliability of products sourced from abroad has caused companies to set their sights closer to home to keep pace with demand. 
As it's become clear that the impact of COVID-19 is here to stay, supply chain managers are recognizing the need to innovate and placing greater emphasis on supply chain technology. Digital twins for forecasting, optimizing, and calculating risk/reward have never been more valuable.
The Path Forward
Faced with an unrelenting economic crisis, companies are assessing areas of vulnerability, building resilience, and optimizing production & distribution. 
Gathering data about product complexity (e.g. flexibility in design when parts are out of stock, availability of substitute materials) and financial agility, among other dimensions of supply chain vulnerability can help companies uncover weaknesses and plan ahead to bolster them against future crises. 
This is part of a strategy aimed towards fostering resilience. Distinct from risk management, "resilience" in supply chain planning involves a proactive philosophy that views disruptions not as something to be avoided, but as opportunities for growth. In the case of the COVID-19 pandemic, some companies have adapted and even thrived in the face of unpredictable circumstances. 
A resilient SCP approach focuses on diversifying supplier relationships, creating redundancies, and transforming company culture through education, communication, and distribution of power. 
Demand Driven as a Solution
In the aftermath of a global pandemic, stepping up supply chain planning by harnessing the latest technological advances and training has never been more relevant or important. 
Incorporating Demand Driven methodology can support supply chains in bouncing back from the current crisis and ensure they'll be ready to tackle whatever comes next. 
Transform your approach to supply chain planning in the wake of COVID-19 by joining Patrick Rigoni for his next webinar.