In today's rapidly changing business environment, companies must be able to adapt quickly to changing market conditions and customer demands. The Demand Driven Adaptive Enterprise (DDAE) approach provides a framework for organizations to become more agile and responsive to these changes. By leveraging technology, data, and analytics, companies can gain a deeper understanding of their customers and markets and make more informed decisions.
What is the Adaptive Enterprise Foundations Professional program?
Adaptive Enterprise Foundations Professional (AEFP)™ is a professional certification provided by the Demand Driven Institute, a global leader in Demand Driven education, training, certification, and compliance.
AEFP showcases an individual's comprehension of the conceptual distinctions between traditional supply chain methodologies such as MPS, MRP, and DRP and the newer flow-based strategies, including the DDAE Model.
Overview of Adaptive Enterprise Foundations Program (AEFP)™
The Adaptive Enterprise Foundations Professional program is created to equip individuals from all backgrounds with the fundamental skills and knowledge required to transform their organization into a truly adaptive entity. An adaptive organization can swiftly and efficiently adapt its internal structure and processes to meet its external environment's changing demands and conditions in the short and long term.
Adapting is essential for an organization's survival and ongoing success in today's volatile, uncertain, complex, and ambiguous business landscape. The AEF Program is the official preparatory course for the Adaptive Enterprise Foundations Professional (AEFP)™ certification test.
This course, facilitated by top-notch supply chain and organizational development professionals endorsed by the Demand Driven Institute, is beneficial for individuals at all levels within a company, from entry-level planners to CEOs, as well as members of S&OP teams, operations and supply chain, human resources, marketing, sales, and finance. Both inexperienced and experienced professionals will gain valuable hard and soft skills to transform a traditionally-managed company into a dynamic, demand-driven adaptive enterprise.
The program is delivered through an innovative educational approach that promotes using a common language across all departments and levels of responsibility, including shareholders.
Additionally, the course includes an online learning system designed to reinforce the common language and prepare participants for the Adaptive Enterprise Foundations Professional™ exam. The online system allows participants to complete the coursework at their own pace.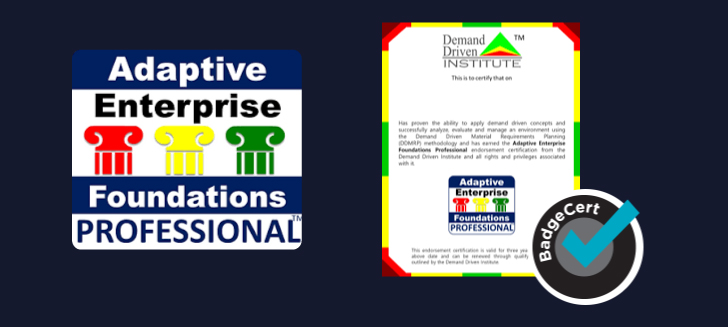 What are the unique features of AEFP™?
The AEFP™ program offers several unique features that make for an outstanding learning experience. These include:
The inclusion of a shareholders' perspective enables the development of strategies and tactics that reduce conflicts among stakeholders and promote mutual benefits.

The incorporation of financial reports and ROI calculation to connect financial and operational aspects.

A role-playing exercise involving shareholders, the CEO, and employees to create a roadmap for company improvement.

Using real-world examples and illustrations to bring the program's concepts to life.

An explanation of the conceptual differences between conventional supply chain and flow-based approaches, including Lean and Theory of Constraints, and how they culminate in the Demand Driven methodology.

A comprehensive overview of the role of DDMRP and DDS&OP in the big picture, along with detailed applications.

The introduction of skills buffers for effective management of personnel competences.

The basic rules of change management to effectively become an adaptive enterprise.

The basic rules of collective intelligence to create synergies among individuals.

A format that is friendly to personnel at all levels of the organization and well-suited for group learning.

Continued access to the unique online learning system for continued learning and exam preparation after the program.
Meet Patrick Rigoni: DDAE Expert and DDP, DDL Master Instructor
Patrick Rigoni is an ideal instructor for individuals looking to become AEFPs. He has over 15 years of experience in the supply chain industry and has worked in line and strategic advisory roles. He profoundly understands the DDAE methodology and has helped many organizations transform their supply chains using the DDMRP approach.
As a founding partner of SmartChain International LLP, Patrick co-developed the agile and Demand Driven methodology and concepts, oversaw many holistic supply chain transformations, and developed robust Demand Driven simulation tools and customized assessment tools. He also has experience in computer simulation modeling and is a Six Sigma Master Black Belt, Lean Assessor.
In addition to his experience and expertise, Patrick is an accredited DDP and DDL master instructor by the Demand Driven Institute. He is well-equipped to guide individuals to pass the AEFP exam and become an Adaptive Enterprise Foundations Professional.
To become an AEFP, individuals must pass the AEFP exam. Patrick Rigoni can help you to become AEFP as he is a seasoned professional with extensive experience in the field of the supply chain. He deeply understands the practical application of DDAE principles and is well-versed in the latest industry trends and best practices.
Prerequisites of the AEFP™ exam
Before taking the exam, please be aware of the following requirements:
Allow approximately 30 minutes for set up before starting the exam;

Payment of the exam fee or the use of a voucher is required;

The ability to download and install the Remote Proctor application is necessary;

A functional microphone and webcam on the computer are required;

Valid government-issued identification is mandatory;

Technical support will only be provided in English.
AEFP™ exam rules
The AEFP test is a remotely proctored exam that utilizes a "record and review" system. Your exam session will be recorded, including sound, and will be reviewed by a proctor before official results can be released. Please follow the rules below during the exam. Failure to comply may result in a review flag by a proctor, escalation to DDI, and potential disqualification:
No pen or paper can be used.

No books or notes can be used.

A valid photo ID must be presented and visible, such as a passport, driver's license, or military ID.

A room scan must be completed.

The candidate's eyes must be focused on the computer screen/monitor and visible to the camera throughout the exam.

No visitors are allowed in the testing room.

No additional devices, such as televisions, radios, phones, or headsets, can be used.

Lighting must be of "daylight" quality, and overhead lighting is preferred. If overhead lighting is not possible, the light source should not be behind the student.

No communication with any other person through any means is permitted.

Browsing other websites, emailing, browsing local or remote databases, and speaking to others is prohibited.

The candidate must stay in the room throughout the exam.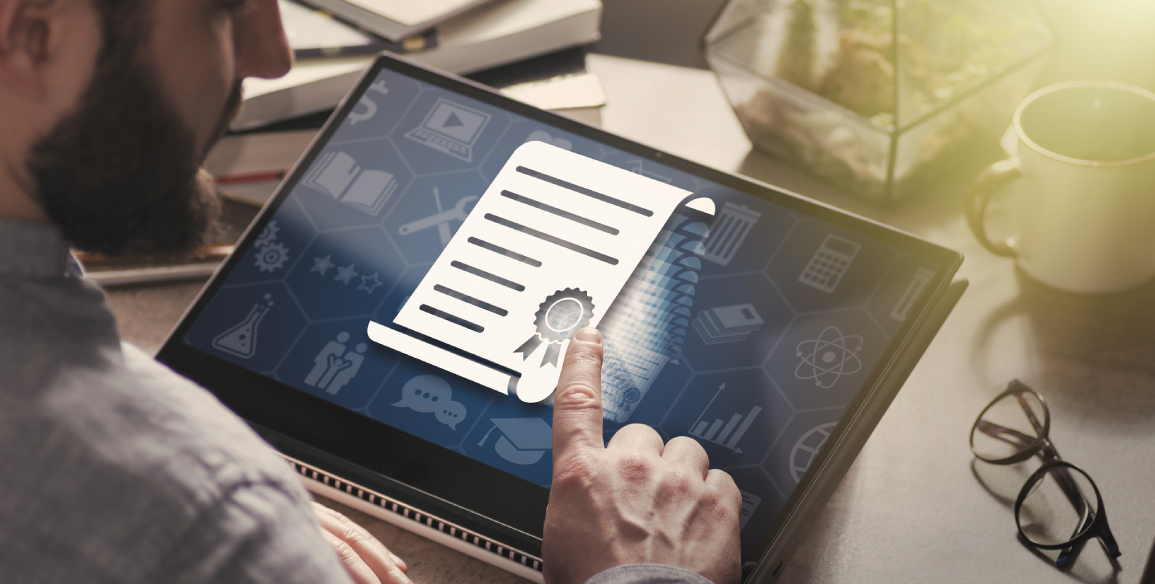 How to prepare for the AEFP™ exam
You can prepare for the Adaptive Enterprise Foundations Professional (AEFP)™ exam through two methods:
ATTENDING an Adaptive Enterprise Foundations (AEF)™ Program –

the official AEFP test preparation session.




 

SELF-STUDY – You can prepare for the exam through self-study.

You should be familiar with conventional information and planning systems, corporate finance, Lean, Six Sigma, the Theory of Constraints, and the Demand Driven Adaptive Enterprise (DDAE) Model.
Course curriculum and key topics covered
The AEFP™ exam is a multiple-choice test consisting of 60 questions, each with four options. The candidate has three hours to complete the exam. 
The exam content is divided into four main categories that align with the content of the Adaptive Enterprise Foundations (AEF)™ program. 
The categories are:
The New Normal in Industry:

including marketing, financial, and supply chain considerations, and concepts of supply chain management.

Traditional Processes and Tools:

including fundamental processes of all companies, conventional IT tools, and planning systems.

Giants of Industrial Flow:

including modern flow-based systems, a history of flow, and demand-driven flow.

From Linear to Adaptive:

including the demand-driven adaptive enterprise, maturity model to become adaptive, change management, skills evolution, and road maps.
Certification badge and its maintenance
Upon completing the program, you will receive an email with instructions on obtaining your electronic badge and certificate. 
An independent entity, BadgeCert, manages the electronic badges. The AEFP certificate is issued by the Demand Driven Institute and can be accessed through a link with your badge, which you can print.
The badge and certificate are valid for three years. To maintain the endorsement, AEFP™ certificate holders must earn 20 Continuing Education Units (CEU) every five years. 
Each CEU is equivalent to 1 hour of "qualified content." such as attendance at various DDI-produced webinars, watching available videos on the DDI website, watching available videos through DDI's on-demand system, and attendance at a Demand Driven World™ Conference.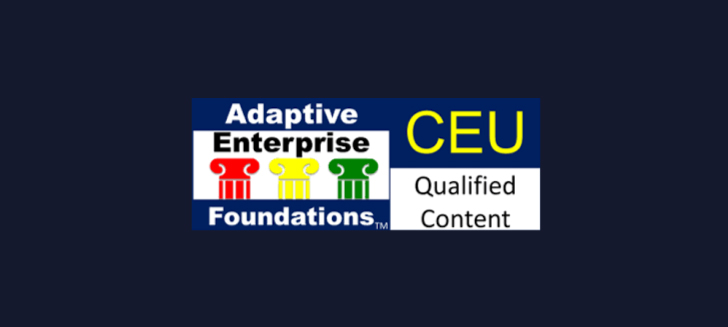 Conclusion
The Adaptive Enterprise Foundations Professional (AEFP)™ program is a valuable opportunity for individuals and organizations looking to improve their ability to adapt to changing market conditions and customer demands. It equips individuals with the skills and knowledge needed to implement the DDAE approach within their organization. Upon completing the program, individuals will understand the conceptual differences between conventional supply chain and flow-based approaches.
Interested in knowing how Patrick Rigoni can step up the game of your supply chain? Contact us today and get a free consultation.
Patrick Rigoni also offers in-depth DDMRP courses; if you are interested to know more about DDMRP for the supply chain for your company, here is the link to the NEW DDMRP Page.