In the 1950s, an innovative planning system known as "Material Requirements Planning (MRP)" was developed. MRP forever revolutionized the world of manufacturing. However, things have changed:
Customer tolerance times have shrunk.

Product variety and complexity have increased.

Supply networks have expanded globally.
MRP was not created for this context and is failing miserably in the "New Normal."
Demand Driven Material Requirements Planning (DDMRP) is a realistic, tried-and-true, and growing supply chain planning and implementation method that effectively modernizes a 1950s concept. DDMRP is built on the connection between the creation, protection, and acceleration of the flow of relevant materials and information and long-term asset performance. The Demand Driven Adaptive Enterprises(DDAE) use the concepts of DDMRP on their supply chain to manage their inventory more efficiently.
What is DDAE?
The Demand Driven Adaptive Enterprise model is a managerial and operational approach that enables businesses to adapt to complex and turbulent situations. The methodology employs a continuous system of innovation and feedback between three major components: a Demand Driven Operating Model, Demand Driven S&OP, and Adaptive S&OP.
A Demand Driven Adaptive Enterprise concentrates on safeguarding and promoting the flow of relevant information and materials across strategic, tactical, and pertinent operational ranges to deliver continuous return on equity performance.
Why do companies need DDAE?
The market is evolving quicker than ever, and manufacturers must brace themselves for a tremendous transition over the next decade. We're talking about a global shift that will influence every industry. We shall see the largest wave of mass retirement in Western Europe. Only two people will enter the workforce for every three who retire, and those who retire are the most professional and highly skilled workers. This will push businesses toward automation, which will need more machines.
With so many new products and devices hitting the market, raw material demand is skyrocketing. And when additional countries' economies improve, they begin to consume more goods and services.
The DDAE model enables businesses to respond swiftly to changes in their environments, reduce disruptions' impact, and raise their overall resilience. In addition to stock, time, and capacity buffers, which are all used in the model for effective material and information flow management, skill buffers will become increasingly important in creating visibility of currently available and future required skill sets and then acting on it in an environment of generalized labor shortage.
Who is Patrick Rigoni?
Patrick Rigoni, our creator and a thought leader in Demand Driven methodology, has over 15 years of supply chain experience. He has had both operational and strategic advisory positions.
Patrick began his career in line positions at J&J's production plants, gaining hands-on expertise. He became a Six Sigma Master Black Belt, Lean Assessor, and computer simulation modeling expert. He is also an accredited Demand Driven Institute DDP and DDL master instructor.
He co-founded SmartChain International LLP, a supply chain consultancy that assists clients in transforming their supply networks, in 2013. As a founding partner, he was instrumental in establishing SmartChain as the industry leader in supply chain management. He co-created agile and Demand Driven methodology and principles, oversaw numerous comprehensive supply chain transformations, and created sophisticated Demand Driven simulation and customized assessment tools.
How can your company become DDAE?
Patrick Rigoni is a DDI certified instructor, and he can help your company to become DDAE.
To become DDAE, you need to follow the instructions and keep in mind the prerequisites your company needs to gain visibility before applying DDAE to your supply chain.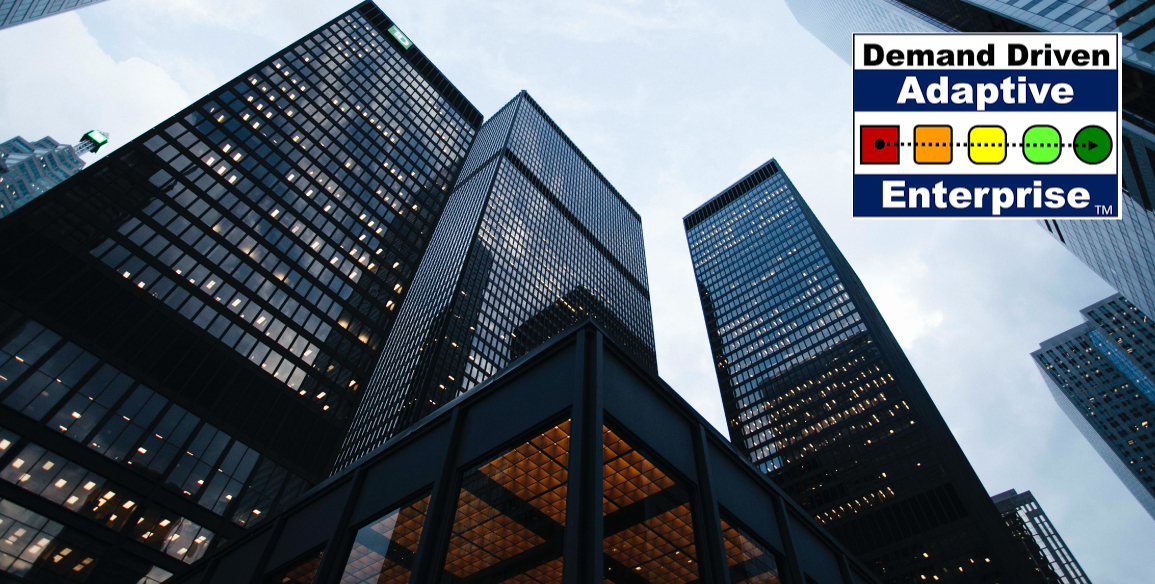 Prerequisite #1: Knowledge of Relevant Ranges
Relevant range is a notion borrowed from economics and management accounting. The relevant range is the period during which assumptions are valid. The speculations and information that are valid and useful inside these ranges will vary substantially, and various personnel will use these distinct ranges. As an example:
Forecasts are helpful for the long term, not the immediate term.

Fixed expenses are variable over the long term but not in the near term.

Work order delays are essential in the near term but not in the long term.

A machine breakdown is essential in the short term but not in the long term.
Attempting to force-fit assumptions (and metrics generated from those assumptions) into an unsuitable range results in distortions to crucial information and materials and, as a result, a breakdown in flow. Later in this work, three sorts of relevant ranges will be addressed.
Prerequisite #2: A Flow-Based Operating Model
All operational activity in a flow-based operating model focuses on flow. In day-to-day operations, the flow becomes the everyday basis for decision-making. When we examine the many components of Operations, we notice a clear link to their objectives and flow. First and first, the operational model's policies, measurements, and choices should be based on flow – nothing else unifies and aligns the business in the same way.
Prerequisite #3: Flow-Based Metrics
The metrics must consider the preceding requirements, such as varying relevant ranges and a flow-based operational paradigm. Non-flow-based measurements forced to fit will directly lead to conflicts and distortions throughout the business – it will obfuscate what is appropriate.
Obscuring what is relevant leads to increased variability, directly hindering the flow of pertinent information and materials. As a result, in the flow-based operational model, there must be a set of flow-based metrics which connect all important ranges.
Prerequisite #4: Tactical Reconciliation between Relevant Ranges
While the assumptions and information crucial for decision-making fluctuate throughout these ranges, it is imperative to reconcile them on a continuous and iterative basis. The model's performance under projected conditions and operational capability and performance must all impact strategy. Predicted conditions and strategic expectations in the future must have an impact on operational capability.
Five stages of DDAE
The DDAE model includes a clear development path for organizations to follow as they mature their demand-driven transformation.

This course is divided into five major stages:
Stage 1: This Stage focuses on operational efficiency based on cost. This stage will focus on cost reduction and supply chain responsiveness.
Stage 2: Companies should begin to stress operational efficiency with the help of DDMRP by deploying it on the supply chain at this level.
Stage 3: Stage 3 is also known as DDAE 1 because it is the first time DDAE is used in the supply chain. This stage focuses on synchronizing and utilizing operational capabilities for improved flow performance. It also expands the application of the Demand Driven Operating Model across the supply chain.
Stage 4: Stage 4 is known as DDAE 2. This stage uses the power of the Demand Driven Operating Model in total capacity all over the enterprise and into the market. This stage also uses the principles of DDS&OP and Adaptive S&OP to manage the supply chain more efficiently.
Stage 5: Stage 5 is also known as DDAE 3. This stage is the final stage of the DDAE model and focuses on adapting to the market needs. This level discusses how the business can become a useful and strategic supply chain partner by facilitating mutually beneficial flow with its suppliers and consumers.
Its employees comprehend and see the supply chain as an interconnected network, discovering chances for improved flow generation and protection. Management can identify and resolve present and impending strategic conflicts through adaptive and inventive solutions. Through the DDAE model, these firms can mentor new management generations to maintain and accelerate momentum.
Conclusion
Adopting DDAE will not guarantee survival, but it will put your organization in a far better position to fight the approaching cyclone, and the time to start is now. By following the above stages and prerequisites under the guidance of Patrick Rigoni, you can successfully convert your supply chain into a Demand Driven Adaptive Enterprise.
Interested in knowing how Patrick Rigoni can step up the game of your supply chain? Contact us today and get a free consultation.
Patrick Rigoni also offers in-depth DDMRP courses; if you are interested to know more about DDMRP for the supply chain for your company, here is the link to the NEW DDMRP Page.