The beauty industry is notoriously competitive. It's no small achievement, then, to secure the title of top cosmetic packaging supplier in the world. Albéa has positioned itself in the upper echelon of the global cosmetics marketplace – and DDMRP plays a pivotal role in the company's success.
Albéa stands apart from the competition in a host of ways. Its customers range from small, independent, locally owned businesses to multinational powerhouses in pharma, color cosmetics, skincare, and even food & spirits. Operating in such a dynamic marketplace necessitates an agile supply chain that can effortlessly adapt to shifting circumstances. Albéa manages to satisfy its diverse client base and receive recognition for its sustainability efforts – all while operating across 39 facilities in 16 different countries.
Becoming a power player on a global scale requires an innovative, flexible supply chain strategy. That's why Albéa turned to DDMRP. The company's success hinges upon the proven sequence of "Position-Protect-Pull" to ensure a seamless execution of tasks across the supply chain. 
Who is Albéa?
Let's get acquainted. Albéa  is the name behind the packaging that adorns everything from perfume and mascara to moisturizer and toothpaste.  They're the go-to supplier of tubes, jars, pouches, and bottles for the beauty industry. With an international team surpassing 10,000 people, Albéa operates on a grand scale. It operates dozens of facilities on multiple continents: Europe, Asia, and the Americas.
Albéa has been in the beauty packaging business for more than 50 years. These days, it's cornered the market and has the data to prove it: raking in more than $1.2 billion USD in sales last year, Albéa is a serious player in the cosmetics industry. The company prides itself on its diverse clientele, ranging from indie beauty brands to global wellness giants. Think Procter & Gamble, Givenchy, The Body Shop, Kiko, Clinique, and Arm & Hammer. In addition to supplying packaging for beauty staples like lipstick and eyeliner, Albéa creates packaging solutions for food, beverage, travel and sports paraphernalia.
Sustainability matters to Albéa, and the company has earned a reputation for excellence in this arena. They have committed to producing 100% reusable or recyclable plastic packaging by 2025 as the first cosmetics packaging company to sign the Ellen MacArthur Foundation's commitment to a new plastics economy. Albéa has also received a gold rating from Ecovadis based on its overall social and environmental footprint, ranking in the top 6% of companies. 
How has Albéa utilized DDMRP?
In 2015, Albéa decided to transform its supply chain planning strategy with Demand Driven methodology. Like many global supply chain power-players, the company was confronting challenges like a faster product renewal rate and higher demand volatility. In testing out Demand Driven, the company identified one major objective: lead time reduction. 
Since DDMRP is lauded for its impact in reducing lead time while optimizing costs and inventory, the shift was an obvious choice. Albéa began its Demand Driven journey by piloting DDMRP on lotion pumps, eventually extending its use of the methodology to all lotion and fragrance pumps.
The company's leaders found Demand Driven methodology delivered on its promises right away. Albéa reported a dramatic decrease in lead time, inventory reduction, and improved customer satisfaction all as a result of implementing DDMRP. When companies work within the Demand Driven framework, it's not unusual to cut lead time in half.
Additionally, improved service levels mean that companies like Albéa can increase sales after enacting a Demand Driven supply chain strategy. The flexibility and agility of DDMRP made it possible for the packaging supplier to confront unexpected challenges and respond to an uncertain global marketplace with greater ease. 
How did Albéa measure its success?
Dramatic reductions in lead time. Improved customer experience. It's one thing to hear about these themes in general terms, but we always prefer raw data. Fortunately, Albéa has plenty to draw from.
When the company piloted DDMRP on its lotion pumps in Le Tréport, France, it witnessed immediate, dramatic changes that have sustained themselves for the long haul.
Lead time reduction from 8 to 3 weeks

Inventory slashed by 35% within 6 months

Customer satisfaction increased from 50-60% to 95%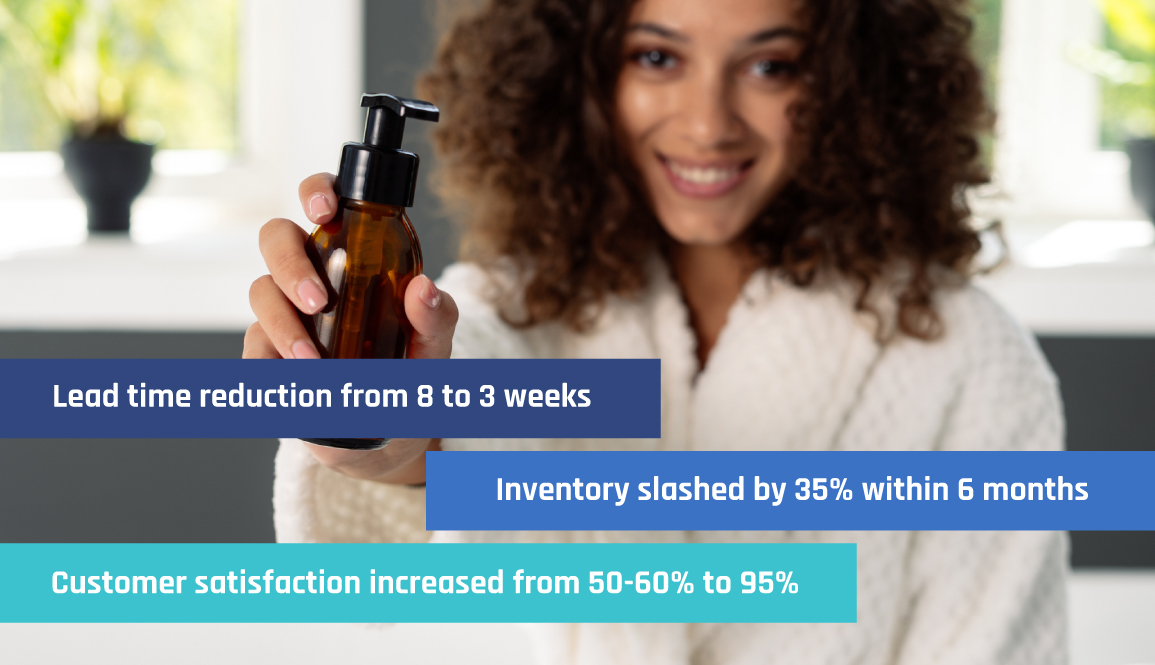 Albéa later piloted DDMRP at its facility in Bottanuco, Italy, where it manufactures mascara brushes and bottles. There, similar results were reported: average lead time reduced from 11 weeks to 5 weeks after implementing Demand Driven methodology. Separately, at its Argonne, France facility, Albéa utilized DDMRP to reduce lead times for its cosmetic tubes from 3 weeks to 1 week. The company also reported lower inventory liability, no shortages, and 100% customer satisfaction.
Albéa is a global name in the cosmetics packaging industry, but the company has made a reputation for itself as an innovative, forward-thinking, and agile supply chain leader. Success like this is no accident. It's the result of a dedicated and intentional team of supply chain experts utilizing best practices in the industry. That's why companies like Albéa turn to DDMRP. 
Demand Driven methodology is the gold standard in today's uncertain economic climate. Reach out to Demand Driven expert Patrick Rigoni to learn more about what DDMRP can do for you and your team!