So you've heard about DDBrix and its revolutionary approach to supply chain education: teaching Demand Driven MRP concepts using Lego bricks. Still, you might be scratching your head. How does playing with blocks translate to learning the fundamentals of supply chain planning? 
We're here to demystify the experience for you. But first, some basics:
DDBrix was created by Demand Driven expert and B2Wise Global Brand Ambassador Laurent Vigouroux in 2015. Since its inception, the workshop has taken hold worldwide, attracting global manufacturers and smaller-scale enterprises alike. Whether at Coca-Cola in Africa or Yves Rocher in France, major company executives are choosing DDBrix as their tool of choice for Change Management. It's simply the most effective (and fun!) way to train teams in the essentials of Demand Driven methodology while strengthening collaboration. 
Patrick Rigoni is experienced in leading DDBrix workshops, having trained alongside Laurent Vigouroux. As a Demand Driven Institute master instructor, he brings a deep understanding of DDMRP and its advantages, as well as real-world experience from across the supply chain. His workshops allow participants to unlock critical knowledge about DDMRP buffers by experiencing their impact firsthand. And it all begins with Legos.
Patrick Rigoni's workshops are divided up into three packages; organizations are free to choose the Group Pack that best fits their size and team dynamic. His sessions are suited for groups from 8-16, and can accommodate teams from up to three different departments. No matter which package you choose, expect to allot a full day of learning. DDBrix workshops last 6-8 hours and include a lunch break (offered by Patrick Rigoni). 
So what's a typical workshop look like? 
After they arrive, participants are assigned to different teams and given specific roles within that team. For example, someone might take on the role of "scheduler," "supplier," or "quality control manager." No matter what responsibilities you're given, it's important to remember that you won't hold that title for the entirety of the DDBrix simulation. Rather, participants rotate between roles during the workshop, providing an opportunity to "try on" different jobs that contribute to the supply chain. Nothing like walking a day in someone else's shoes to develop some serious empathy — even in Lego form! 
Gathered around conference tables, Legos spilled all around them, learners at a DDBrix workshop begin assembling widgets from the blocks. At first, the pressure is intense. The timers are running and batches are taking too long to make their way through the simulated supply chain. Of course, quality isn't up to par as a result. 
No matter — these workshops are all about learning, even (and especially) from mistakes. Questions and experimentation are encouraged. Patrick Rigoni supports participants in applying DDMRP principles to simplify the supply chain planning process. Then he steps back and watches the magic unfold.
At the start of the day, team members are faced with challenges that reflect the reality of Material Requirements Planning (MRP) in the outside world. Supply backlogs, high stress, and planning mixups can lead to significant issues at the Quality Assurance end of the supply chain. But then, Demand Driven methodologies are applied. Suddenly, the pressure is off. Output and control increase, while inventory decreases. Bells are ringing and timers are sounding, but everything is moving along according to plan. Thanks to DDMRP, the system starts running like a well-oiled machine. 
During a DDBrix workshop, the effects of applying DDMRP buffers are undeniable. Each participant can witness firsthand as material and information flow are optimized. As he facilitates the program, Patrick Rigoni keeps track of key performance metrics, so everyone involved can visualize the impact of Demand Driven through data. Reduced working capital, increased order fulfillment, and stabilized production are just a few of the tangible outcomes. While it's exciting to see it all come together during a simulation, it's the long-term takeaway from the workshop that really inspires. Participants can truly imagine putting these concepts into practice in their own organization and the extraordinary impact that will result. 
Another ripple effect of DDBrix? The bonds that are formed and the silos that are crushed during those 6-8 hours. As participants wear a variety of hats throughout the workshop, they get a taste for the challenges that each key player along with the supply chain experiences. After the simulation is complete, there's a deeper empathy and understanding of the complexity inherent to each role. Connection and appreciation of each other's strengths and needs flourishes. Whether an organization brings together multiple teams or a small group of individuals who already work together, DDBrix is guaranteed to foster camaraderie.
Learning and playing aren't polar opposites — they're two sides of the same coin. DDBrix was established on the philosophy that supply chain planning education should be fun and engaging. The best way to understand the principles behind Demand Driven MRP is to put them into action with your own hands. That's why companies around the globe are opting to train their teams on best practices of supply chain planning by registering them for DDBrix. 
Ready to master the art and science of DDMRP with a group of colleagues while having a blast? Contact DDBrix trainer and supply chain planning consultant Patrick Rigoni to set up your workshop!
Contact Patrick Rigoni today to register your team for a high-impact DDBRIX WORKSHOP!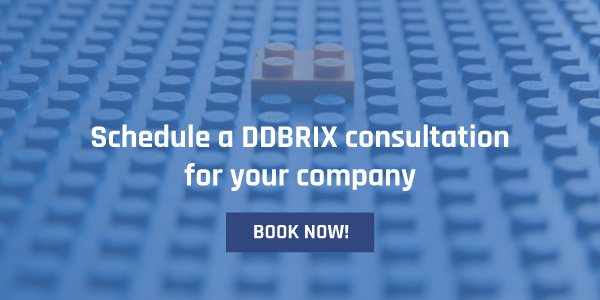 Download the DDBRIX WORKSHOP Brochure from Patrick Rigoni and check out the latest packs that fit your team and your company!